DC's Union Station evacuated after SEC guard fatally shoots knife-wielding man involved in stabbing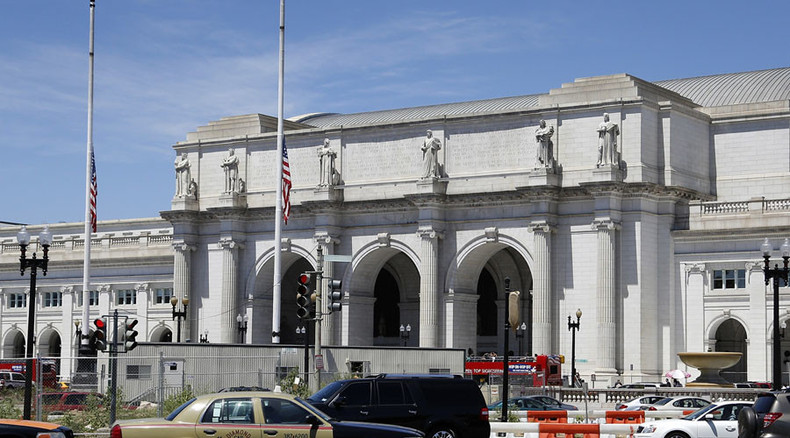 Union Station, a major transportation hub in the nation's capital, was partially evacuated after a Securities and Exchange Commission security guard fatally shot a man wielding a knife who had stabbed stabbed a woman. Trains were also temporarily halted.
Eyewitnesses initially reported several gunshots had been fired in the food court around 12:45 p.m. local time, prompting police to yell, "run, get out, run!" to the people inside.
However, only one shot was fired, and DC's Metropolitan Police Department quickly tweeted that it was not an active shooter situation.
"An armed security officer assigned to the Securities and Exchange Commission area intervened in… a domestic altercation," MPD Commander Jeff Brown told reporters.
An adult male stabbed an adult woman in the side in front of a permanent security post located at the entrance from Union Station to the SEC and Kaiser Permanente. A security guard at the post chased the man with the knife about 50 feet into the transit hub, demanding that the man stop and drop the weapon, Brown said.
"The suspect turned on the officer, lunged at him with the weapon. The armed officer fired one round from his revolver, striking the suspect one time in the side," he added.
Both parties to the domestic dispute were transported to nearby hospitals with non-life-threatening injuries. However, the man who was shot succumbed to his injuries Friday evening, DC police said. The SEC security guard was "accosted with the knife," but was not injured, Brown said.
The exact relationship between the man and woman is unknown, but police believe it was a domestic incident.
Amtrak Police Chief Polly Hanson noted that there was extra police presence at Union Station because of the 14th anniversary of the September 11 terrorist attacks. Union Station is located three blocks north of the US Capitol complex.
"Because it was September 11, we had multiple police departments here in a surge capacity: Metro Transit Police, Metropolitan Police, US Capitol Police, US Park Police, Federal Protective Service because those are all the agencies that are deployed with in this facility [normally]," Hanson told reporters.
People who were on the main floor near several train gates by the McDonald's self-evacuated when they heard the gunshot, while others tried to hide as events unfolded.
"Obviously, with this being 9/11, fears were heightened and escalated… There were several individuals who fled from the scene here inside Union Station [and] evacuated," Brown said. "Others were sheltered-in-place, which we often direct them to do. Several local agencies responded. We determined there was no other threat to other individuals, to patrons, things of that nature and we secured the facility without any incidents."
"We actually have several witnesses who observed the offense and gave us some great, pertinent information. There wasn't a massive stampede, no one was injured [during] the exit," he added.
Amtrak, Virginia Railway Express and Maryland Area Regional Commuter train services were temporarily halted, but full service was quickly restored once the shooting scene was secured, Hanson said.
Several stores near the shooting location on the first floor as well as on the mezzanine level remained closed over an hour after the incident.
You can share this story on social media: