Explosions reported as 'hazardous material' fire rages in Phoenix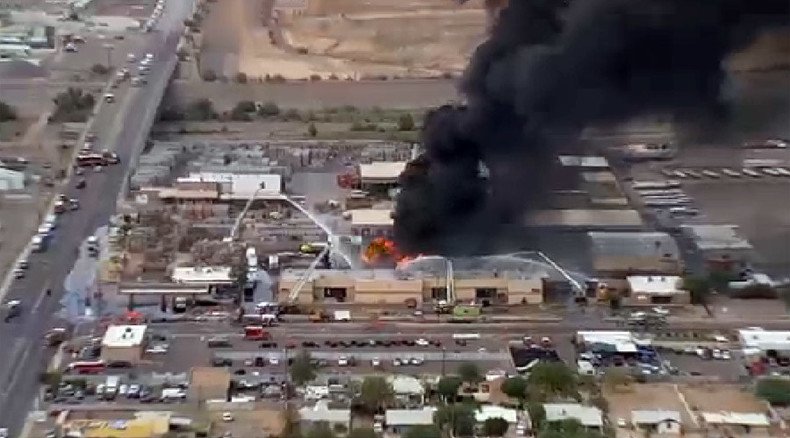 Explosions have been reported in Phoenix, Arizona, where a massive industrial fire involving hazardous materials engulfed a structure and prompted evacuations in the area on Wednesday, according to local media.
The cause of the fire is not yet known, but the flames were said to be coming from a local tar plant, according to CBS News.
"Multiple explosions" were triggered by the fire, AZ Family reported. Fire officials also stated that multiple storage tanks had been destroyed, at least three of which exploded.
Additionally, fire officials said barrels had been blown into the air as projectiles, according to local ABC 15.
Large plumes of black smoke could be seen billowing into the air and were visible for miles. Airplanes flying through the area were also affected.
Located near 19th Avenue and Broadway, the fire spawned fireballs that spouted from the smoke every few seconds, AZ Family reported.
Witnesses said they could "feel the heat" from the fire about two blocks away.
Local businesses have been evacuated by the fire department in response, and people have been told to steer clear of the area. Roughly 100 people have been evacuated, ABC 15 reported.
Approximately 50 firefighters have been deployed to battle the flames.
Twenty hazardous material officials are also at the scene, the fire department said.
You can share this story on social media: