Govt land agency euthanized 28 wild horses starving in Nevada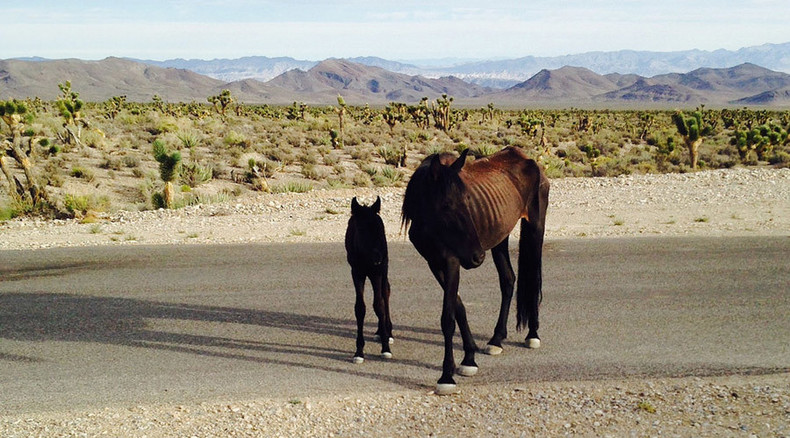 The Bureau of Land Management, a federal agency that manages public land, euthanized 28 wild horses in Nevada due to the prolonged drought there. The agency rounded up over 200 horses last week in their first effort to try to nurse them back to health.
"We have identified more horses that are in danger of starving," said BLM's acting state director, John Ruhs, after last week's round up of more than 200 horses.
The agency said another 150 horses looked to be in poor condition and it plans to gather an additional 57 of them on Wednesday by baiting them with hay and water.
The extreme drought and lack of forage in Cold Creek, an area 30 miles west of Las Vegas, is creating a crisis for the horses, which are the last wild herd in Southern Nevada. The 28 that were euthanized had a "poor prognosis for recovery," according to a statement by the BLM. Of the 28 horses, 22 were mares and six were studs.
The BLM said the herd has been under stress for four years due to the ongoing drought. They have been traveling distances of 10 miles per day and resorting to feeding on vegetation such as Joshua Tree and desert shrub species, which are not part of their usual diet, reported the Las Vegas Journal Review.
"Our goal is to help as many horses as we can…we do not expect the situation to improve any time soon," said the agency in a statement. "Without emergency action, the condition of the Cold Creek horses is expected to further deteriorate."
The BLM uses a scoring system, which is posted on its website, to evaluate the health of horses. The agency said most of the horses that had been rounded up had a body condition score of 2, which is defined as emaciated, having only slight tissue coverage and vertebrae, ribs, shoulder, neck and other bones visible. None of the animals scored above 3, which is considered thin. The ideal score for a healthy horse is between 4 and 6.
According to BLM reports, 170 of the surviving horses have been transported to a privately owned holding facility in Axtell, Utah, which has been contracted to fatten up and cared for the mustangs.
There were more than 400 wild horses living in the area.