Iran deal set to pass Senate as 41 lawmakers voice support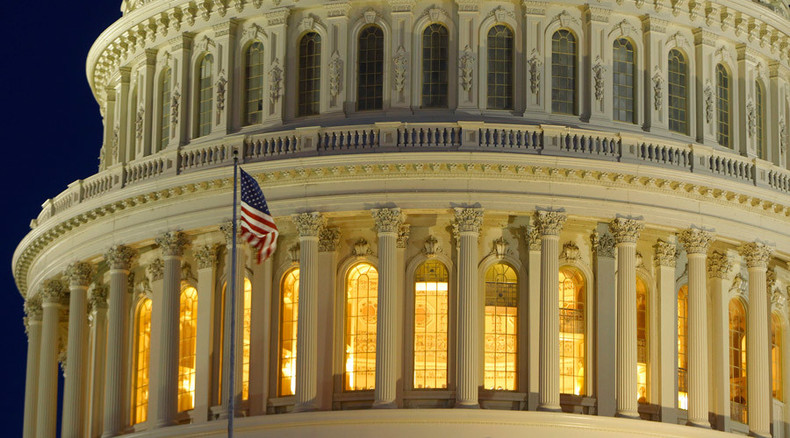 Enough Senate Democrats have endorsed the Iran nuclear deal to block the vote on the Republicans' disapproval resolution, and more than enough to uphold President Barack Obama's veto if the resolution somehow manages to pass.
Senators Richard Blumenthal of Connecticut, Gary Peters of Michigan and Ron Wyden of Oregon, all Democrats, announced Tuesday they would back the deal despite harboring misgivings.
"I will vote to support the proposed agreement concerning Iran's nuclear program and against the resolution of disapproval before the Senate," Blumenthal said in a statement. "My two paramount goals have been to prevent a nuclear-armed Iran and to do so by peaceful means."
Rejecting the deal, Blumenthal said, would damage US reputation around the world.
With Wyden, Peters & Blumenthal, Obama has 41 votes for Iran deal in Senate. Question now is if all 41 support a filibuster to block vote.

— Yair Rosenberg (@Yair_Rosenberg) September 8, 2015
Wyden, a senior member of the Senate Intelligence Committee, urged his colleagues to "ensure that this and future administrations implement the agreement fully and enforce it vigorously." The overlapping provisions for inspections and controls will make it "exceedingly difficult" for Iranians to build a nuclear bomb in the short run, he noted, echoing the administration's talking points.
The Israeli government is opposed to the deal, and the Israeli lobby in the US has campaigned hard against it. Several key Jewish lawmakers have endorsed the deal, including Blumenthal and Wyden. Maryland Senator Barbara Mikulski, a firm backer of Israel, last week gave President Obama the 34th vote needed to uphold the veto.
The procedure for congressional review of the agreement is set up so that a resolution of disapproval would require 67 votes in order to be veto-proof. This means the Senate Majority Leader Mitch McConnell, a Kentucky Republican, would need six Democrats to defect. So far, only four Senators have crossed the aisle in opposition to the deal: Charles Schumer of New York, Bob Menendez of New Jersey, Ben Cardin of Maryland and Joe Manchin of West Virginia.
"I do not believe that supporting this deal will prevent Iran from eventually acquiring a nuclear weapon or continuing to be a leading sponsor of terrorism against Americans and our allies around the world," Manchin said in a statement earlier on Tuesday. He initially favored the deal, but said he changed his mind after meetings with constituents.
Only one Democratic senator, Maria Cantwell of Washington, has yet to publicly declare support or opposition for the agreement. Many lawmakers who endorsed the deal made sure to note they did so with reservations, misgivings or concerns, wishing a better settlement could have been negotiated somehow.
"Despite my serious concerns with this agreement, I have unfortunately become convinced that we are faced with no viable alternative," Gary Peters, a freshman Senator from Michigan, said in a statement Tuesday. "I have met with representatives for each of our negotiating partners, whom have all stated that they will not return to the negotiating table if Congress rejects this deal."
Former Vice President Dick Cheney also called for a better deal, accusing the Obama administration of handing Iran the weapons that could destroy the United States.
"Arming and funding Iran while simultaneously providing them a pathway to a nuclear arsenal is not an act of peace," Cheney said at the American Enterprise Institute on Tuesday. "It's not, as President Obama claims, the only alternative to war. It is madness."
Harry Reid of Nevada, leader of the Senate Democrats, responded by dismissing the notion of a better deal as unrealistic.
"There is no such thing as a better deal," Reid told an audience at the Carnegie Endowment for International Peace. "There is no plausible alternative. There is no better deal."
READ MORE: Key points of historic nuclear deal reached by Iran and 6 world powers
A comprehensive plan to restrict Iran's nuclear program to peaceful purposes was reached in July between Tehran and a group composed of the US, Russia, China, UK, France and Germany, also known as 'P5+1'. Under the agreement, Iran would drastically reduce its uranium stockpiles, dismantle the majority of enrichment centrifuges, and allow International Atomic Energy Agency (IAEA) inspectors access to its nuclear sites. The UN Security Council has endorsed the deal, as have all the other members of P5+1, leaving only the Republican majority in Congress opposed.
With 41 Senators in favor of the agreement, however, the Obama administration has enough clout to prevent a Republican-backed disapproval resolution from passing. What remains to be seen is whether the Democrats will attempt to shut down the debate altogether through a filibuster.