Drone crashes amid US Open match, 26-yo pilot arrested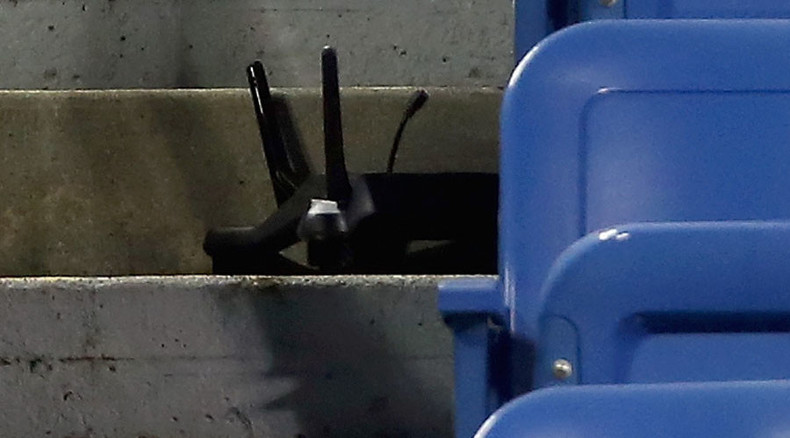 A US open tennis match has been halted by an unidentified drone that flew over the court in Louis Armstrong Stadium and then crashed into stands, sparking security alert. NYPD has solved the mystery and arrester the 26-year old owner.
The drone buzzed over the arena towards the end of the next-to-last game of a second-round match between Flavia Pennetta and Monica Niculescu at around 8:30 p.m. Thursday.
The UAV, about the width of a pizza box, then crashed into an open seating area that was empty at the time.
The drone broke in pieces upon landing.
The crash prompted NYPD to briefly halt the match to inspect the area and recover the drone.
"No spectators were in the immediate area of the crash and there were no injuries," US Tennis Association spokesman Chris Widmaier said. "The NYPD responded and is conducting an ongoing investigation."
Pennetta then said that she heard the drone which she at first thought was a bomb. It made her "a little bit scary," she said.
"With everything going on in the world... I thought, 'OK, it's over.' That's how things happen," Pennetta told the AP.
The player's coach and physical therapist, who were sitting in the opposite end of the stadium, were scared too, the Italian tennis player said.
"All of these (security measures), and then it comes in from above," Pennetta said. "If there had been spectators, it would have hit them and done a lot of damage."
NYPD arrested the owner on Friday morning.
The pilot Daniel Verley, a 26-year-old NYC teacher, is now being charged for reckless endangerment and flying a drone outside a designated area.
Due to the US Open's close proximity to LaGuardia Airport, the use of UAVs is prohibited in the airspace used for flights taking off and landing at the airport.
Under the Federal Aviation Administration regulations, drone use within five miles of airports. La Guardia International is located around four miles from Louis Armstrong Stadium.
According to ESNP information, Verley was found in a marina near Citi Field right after his drone crashed in Louis Armstrong Stadium.
Verley teaches at the Academy of Innovative Technology in Brooklyn, a police department spokesman told ESPN.
There have been no public comments from either Verley or his defense.
As for the game, it continued after an 'OK' from NYPD and ended with Pennetta's 6-1 6-4 win over Romanian rival Monica Niculescu.
This is not the first time when a man was arrested for flying a near a stadium.
Around the same time last September, a filmmaker was arrested for flying one outside the National Tennis Center.
Also last September, a man was arrested for flying a drone near the Brooklyn Bridge.