US workers' pay plummeted 4% over the past 5 years – report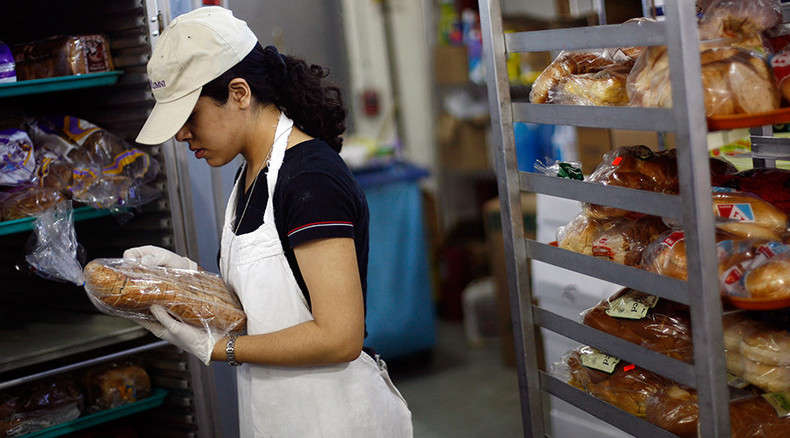 Despite nearly 250,000 jobs being created monthly in the US economy, the majority of Americans saw real wages plummet 4 percent over the past five years, when adjusted for inflation, according to new report by the National Employment Labor Project.
"Stagnant wages have become a fact of life for nearly all of America's workers, but workers in lower-paying occupations are finding it especially tough to keep up with the rising cost of living," said Christine Owens, executive director of the National Employment Law Project (NELP), a research and advocacy group, in a statement.
"Not only are their paychecks not growing, but their purchasing power has shrunk considerably, and to a far greater extent than that of higher-wage earners."
The report looked at the percentage change in hourly wages for 785 occupations from 2009 to 2014, and then divided those jobs into five classifications. While hourly wages declined across all occupations, the hardest hit workers were those in lower- and mid-wage fields.
The past year has been the best for the job market since the end of the recession, with employers adding 243,000 people every month to their payrolls, on average. A consistent complaint about the recovery, however, is that many of the jobs created so far have been low-paying ones.
Restaurant work had seen the strongest gains with the creation of 376,000 new jobs over the past year. Workers, however, saw real pay declines of 8.9 percent for cooks and 7.7 percent for food preparers, representing a loss of roughly $2,185 and $1,622 in income, respectively, in 2014 than in 2009, according to the report's findings.
The report also found that waiters and waitresses, janitors and cleaners, personal care aides, home health aides, and maids and housekeeping cleaners also experienced steep declines.
While labor productivity has improved steadily since 2000, another study by the Economic Policy Institute, a liberal research group, found the benefits of the increased efficiency had gone to companies, shareholders and top executives rather than rank-and-file employees.
The national appeal of the "Fight for $15" campaign, which looks to raise minimum wages to $15 an hour for fast food workers, has been seen by many as a solution to combat the decline in real wages. The campaign has created pressure on lawmakers to increase wages, and over the past two years has resulted in minimum wage legislation being passed in the cities of Los Angeles, San Francisco and Seattle, and in New York State.
NELP said in its report conclusion that an immediate step should be to raise the minimum wage to a t least $12.00 per hour nationally by 2020, and to $15 per hour in higher-cost cities and states.
"Reversing these trends will require concerted effort on the part of federal, state, and local policymakers, regulators and private-sector leaders to reorient our economy toward better-paying jobs," said NELP.
The current unemployment rate stands at 5.3 percent. The rate doesn't include those workers who have actively stopped searching for a job, or are working part-time but would like to work full-time, placing the rate more realistically at 10.4 percent.
The Labor Department's hiring and unemployment report is due out on Friday, with economists hoping to see another gain of 220,000 jobs. The report is significant as it could determine whether Federal Reserve policy makers decide to raise short-term interest rates from near zero.