Obama vows to close 'icebreaker gap' with Russia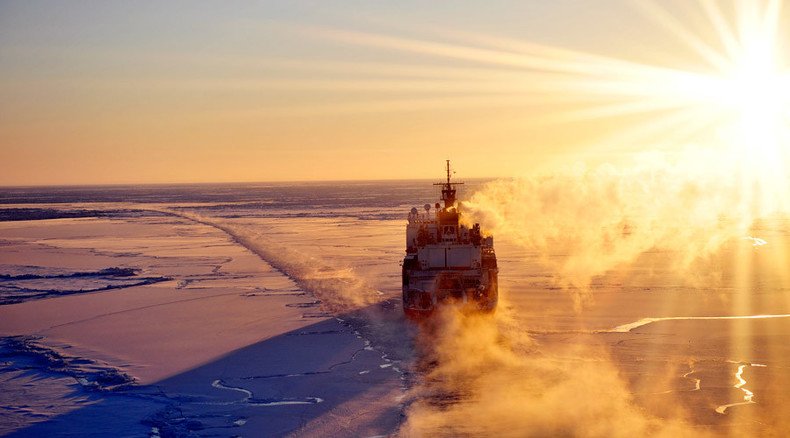 The US needs to build heavy icebreakers if it is to catch up with Russia in the Arctic, the White House said. President Barack Obama called for funding the construction of the specialized ships on the second day of his visit to Alaska.
Citing the fact that Russia has forty operational icebreakers and another eleven planned or under construction, the White House announced Tuesday that it would "propose to accelerate acquisition of a replacement heavy icebreaker to 2020 from 2022, begin planning for construction of additional icebreakers, and call on Congress to work with the Administration to provide sufficient resources to fund these critical investments."
The US once had seven icebreakers, but the fleet has since shrunk to only three, with one reportedly being cannibalized for parts. The medium-class USCGC Healy is currently the only US icebreaker available for Arctic operations, as the heavy-duty USCGC Polar Star is committed to a five-year mission in the Antarctic. The Polar Star's sister ship, USCGC Polar Sea, suffered a catastrophic engine failure in 2010 and has been stuck in a Seattle dry dock ever since.
Sweden and Finland have seven icebreakers apiece, and Canada has six with another in the works, according to the US Coast Guard's figures from 2013. The same review listed four US icebreakers as operational. Russia was listed as having 37, with eight more planned and four under construction.
With the Arctic polar cap receding, Russian icebreakers have been busily plying the Northeast Passage, a much shorter sea route for cargo ships headed from Asia to Europe and back.
"Right now the Russians have superhighways and we have dirt roads with potholes," freshman Senator Dan Sullivan, an Alaska Republican, told Politico.
"Do we need icebreakers? Yes. Did we need them yesterday? Yes," senior Alaska Senator Lisa Murkowski said, according to the Washington Post. Murkowski, a Republican, has been pushing for greater US engagement in the Arctic. While the US Navy is building many new warships, she says, the icebreakers – operated by the Coast Guard – have been neglected entirely.
Part of the problem is that the Coast Guard's budget stands at around $10 billion, and a single icebreaker would cost anywhere between $800 million to $1.4 billion, according to figures from the White House Office of Management and Budget cited by USA Today. It would also take up to a decade, given the current domestic shipbuilding capabilities.
US laws require all Coast Guard vessels to be built at US shipyards, unless the President can cite overriding national security interest. Admiral Paul Zukunft, Commandant of the US Coast Guard, has called icebreakers "a national asset," noting that a number of government departments and agencies had a stake in accessing the Arctic.
According to heather Conley of the Center for Strategic and International Studies (CSIS), a Washington think-tank, the challenge will be securing the funding and getting a new heavy ship built before the Polar Star reaches the end of its operational life in 2020. President Obama's 2016 budget calls for $4 billion for designing and building new icebreakers.
The Polar Star and the Polar Sea were both designed and built in the 1970s by Lockheed Shipbuilding of Seattle, which has since closed. Avondale Shipyard in New Orleans, which built the Healy in 1999, has since been acquired by Huntington Ingalls Industries. The Northrop Grumman spin-off has expressed interest in discussing new icebreakers with the Coast Guard.
"HII has the capability and capacity to build both heavy and medium icebreakers and welcomes the opportunity to expand discussion on that subject with the US Coast Guard or other government agencies supporting an icebreaker requirement," company spokesman Bill Glenn told Reuters on Tuesday.
With the White House and lawmakers citing the size of Russia's icebreaker fleet as a cause for concern, Politico and other media have used the term "icebreaker gap," reminiscent of Cold War rhetoric about nuclear missiles. According to one New York Times reporter, however, such rhetoric is out of place.
"Russia also has an extraordinarily vast Arctic coastline. Its icebreaker needs, like ours, are practical more than provocative," Andrew Revkin wrote in the paper's Dot-Earth blog.
You can share this story on social media: