Massive manhunt on for suspects in killing of Illinois police officer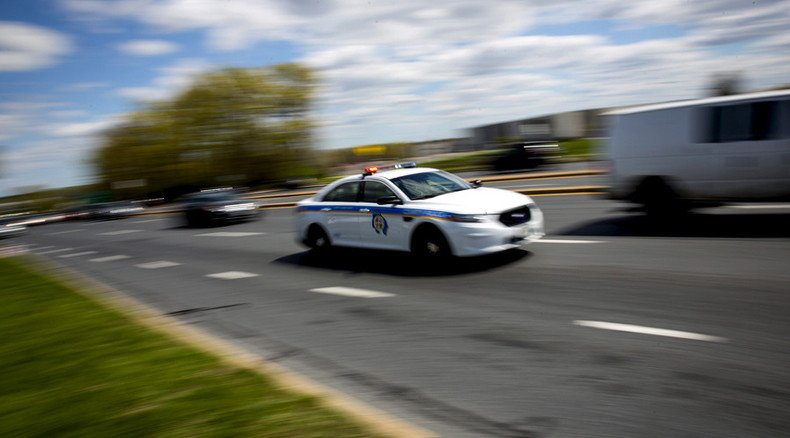 Local, state and federal police are searching for three men in connection with the shooting death of a police officer in in Fox Lake, Illinois. The officer's gun and pepper spray were taken after a foot pursuit.
The suspects are two white men and a black man who are considered to be armed and dangerous, authorities said.
The Fox Lake officer, identified as Lt. Charles J. Gliniewicz, was pursuing people described as suspicious around 8 a.m. local time Tuesday when he was shot, Lake County Undersheriff Raymond Rose told reporters. Police responding to the scene to help found him in a marshy area. He died at the scene.
Gliniewicz was a 32-year veteran of the Fox Lake Police Department and the father of four boys.
"Not only did Fox Lake lose a family member, I lost a very good friend," Mayor Donny Schmidt said during an afternoon press conference, referring to Gliniewicz as "GI Joe."
"He was a dear friend to the entire Village of Fox Lake," Schmidt added.
"He's got four sons who are going to have to go on alone," Terry Resetar, the slain lieutenant's mother-in-law, told the Chicago Tribune.
An officer who responded to Gliniewicz's call could be heard on the scanner saying: " … send everybody you possibly can … officer is down …" the Chicago Sun-Times reported.
Helicopters and police K9 units have been brought in from multiple jurisdictions. Police are going door-to-door in the far northwestern suburb of Chicago.
The Federal Aviation Administration has instituted a no-fly zone over the area, giving police helicopters freedom to search for the suspects without other aircraft getting in the way.
"If [residents] see anybody in their area … that doesn't belong or doesn't look right, they should call 911," Rose said.
Grant Community High School and St. Bede School are on lockdown, while School District 15 in McHenry and Gavin South Middle School and Gavin Central Elementary School in Ingleside are on soft lockdown, according to their websites.
Along with the soft lockdown, the school district made the decision to dismiss students at 4 p.m. instead of 3 p.m., Schmidt said.
Metra has suspended commuter trains on the Milwaukee District North Line, which runs between Fox Lake and Chicago Union Station.
You can share this story on social media: