'Beat Up Squad' case: Fed prosecutors to probe suspicious death of NY prison inmate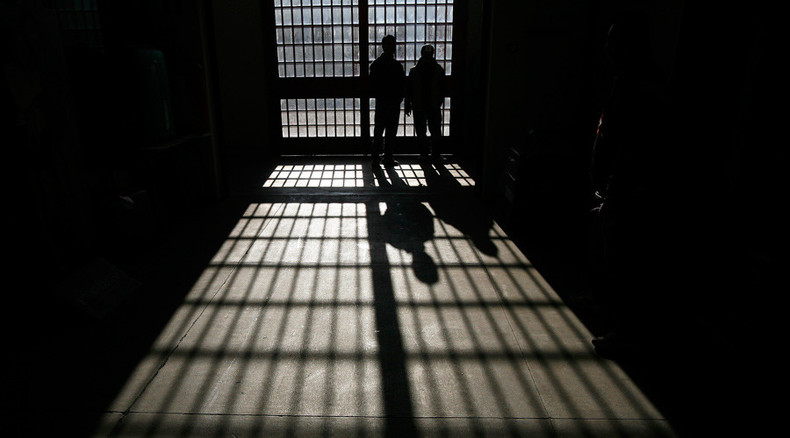 Federal prosecutors have announced they will join an investigation into the suspicious death of a New York prison inmate. Witnesses say Samuel Harrell was beaten to death by a 'Beat Up Squad' of corrections officers following an altercation.
The United States attorney for the Southern District, Preet Bharara, said in a Thursday statement that his office would be "coordinating and working" with the Dutchess County District Attorney's Office, which is also investigating the case.
Harrell, who was African-American, was an inmate at Fishkill Correctional Facility in Beacon, New York. He died on April 21 after a confrontation with officers which began after he announced he was going home – despite having years left on his sentence for a drug conviction, the New York Times reported earlier this month.
Inmates who witnessed the event told the paper that Harrell, 30, was thrown to the ground and handcuffed before being punched and kicked by as many as 20 officers, and either thrown or dragged down a staircase.
One inmate, who asked to remain anonymous for fear of retribution from guards, wrote in an affidavit that he saw Harrell – who suffered from bipolar disorder – lying on the landing of the staircase "bent in an impossible position."
The prisoners said some of the guards involved were part of a group which inmates call the 'Beat Up Squad.'
"Like he was a trampoline, they were jumping on him," said Edwin Pearson, an inmate who watched from a nearby bathroom.
Corrections officers called an ambulance, and Harrell was taken to a nearby hospital where he later died.
However, the guards did not mention the fight to paramedics. Instead, they speculated that he had overdosed on K2, a synthetic marijuana.
But an autopsy report obtained by the New York Times reportedly showed that Harrell had no such substance in his system, and no illicit drugs were found in his body.
The report listed the cause of death as cardiac arrhythmia "following physical altercation with corrections officers." It was ruled a homicide.
However, the classification of a homicide is a medical term which indicates the death occurred at the hands of other people. It does not necessarily mean that a crime was committed.
A spokesman for the New York State Correctional Officers & Police Benevolent Association, James Miller, told the New York Times that prior to the altercation with guards, Harrell had been "acting violently and appeared delusional as a result of apparently ingesting drugs." He added that one guard broke several ribs in an attempt to subdue the prisoner.
However, inmates who witnessed the event say that Harrell never resisted arrest or spoke back to officers.
None of the involved officers have been disciplined in connection with Harrell's death, according to officials.
But Dutchess County District Attorney Bill Grady says the case calls for a thorough investigation.
"The very nature of this case calls for a full, fair, and objective investigation into not only potential criminal law violations, but constitutional violations as well," Grady said in a statement announcing the joint investigation with Bharara.
'Blood on your hands'
Around 50 protesters staged a demonstration demanding justice for Harrell on Thursday, marching to Grady's office in Poughkeepsie and blocking the entrance. The rally was organized by the Hudson Valley Black Lives Matter Coalition (HVBLMC).
Demonstrators held banners reading "Justice for Samuel Harrell" and "D.A. Grady, there's blood on your hands." Many wore "bloody" paper hands, according to the Huffington Post.
Protesters also chanted slogans including "Hey hey. Ho, ho. The 'Beat Up Squad' has got to go!" and sang the words "We are not afraid."
One of the participants, HVBLMC member Margaret Kwateng, called on Grady to press homicide charges against the officers, adding that if he doesn't, he will "not only be condoning the continued terrorizing of current inmates at the hands of a known gang of violent corrections officers, but condoning racist violence in prisons in general."
Harrell's widow, Diane Harrell, joined the protesters, saying, "Sam was murdered by a group of men who used their positions of power in the prison to act out their rage...I cannot bear the thought of my husband's last few minutes of life. I cannot help but visualize his beaten body. I know he suffered. I know he felt excruciating pain. I cannot help but wonder what his final thoughts were..."
She also vowed that she would "not rest" until there is justice for her late husband, adding that she can "only pray" that those responsible will be held accountable.
Bharara's Thursday announcement comes just two months after New York City agreed to institute reforms at the notorious Rikers Island prison complex, following civil claims by Bharara's office that guards regularly used unnecessary force against inmates.