Federal agents raid 'largest' male escort site on prostitution charges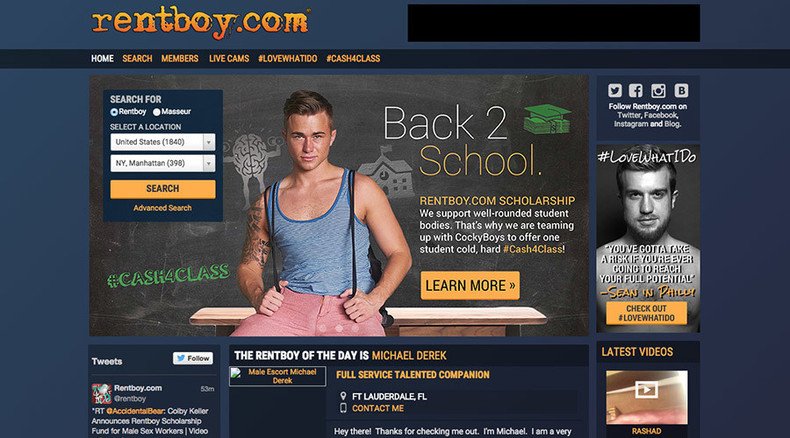 Federal agents and New York police officers raided the Manhattan-based headquarters of Rentboy.com, a site designed primarily for "advertising illegal prostitution," according to prosecutors. Seven people were arrested.
Brooklyn prosecutors said the male escort internet site had 2,500 subscribers and had produced $10 million in revenue between 2010 and 2015.
"As alleged, Rentboy.com attempted to present a veneer of legality, when in fact this internet brothel made millions of dollars from the promotion of illegal prostitution," said acting US Attorney Kelly Currie in a statement.
According to the complaint, the male escort site, founded in 1997, hosted thousands of paid advertisements. The site had a disclaimer that said the advertisements were for companionship and not sexual services, but prosecutors said they promoted prostitution.
Escorts paid to advertise their services on the site and customers paid for access to the escorts, who then engaged in prostitution, according to prosecutors.
The New York Post reported that police officers and agents from the Department of Homeland Security Investigations (HSI) hauled boxes of evidence from the office on 14 Street and Fifth Avenue in New York City on Tuesday.
Prosecutors said they had seized more than $1.4 million from bank accounts linked to the escort service.
Rentboy.com claims to feature over 10,500 profiles of men in 2,100 cities worldwide, some of which are shown with bare chests and ripped torsos on the first pages of the site.
"The facilitation and promotion of prostitution offenses across state lines and international borders is a federal crime made even more egregious when it's blatantly advertised by a global criminal enterprise," said acting Special Agent of HSI Glenn Sorge.
The seven people arrested included the site's CEO, Jeffrey Hurant, and six employees. They were charged with allegedly violating the Travel Act by promoting prostitution across state lines.
If convicted, each defendant faces up to five years in prison and a fine of up to $250,000.
In the statement from the Department of Justice, the government said it had taken steps to restrict the www.rentboy.com domain, but the website and Twitter account were still active on Tuesday evening.
You can share this story on social media: