Sewage spill forces closure of Hawaii's iconic Waikiki beach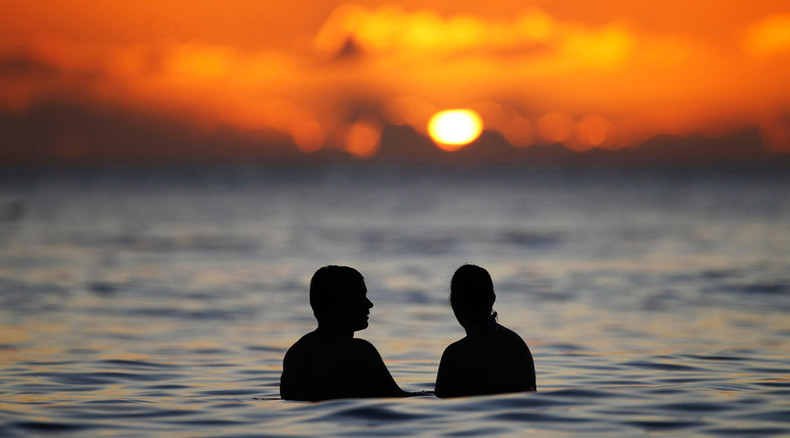 Nearly 2,000 tons of sewage has polluted Honolulu's renowned Waikiki Beach due to heavy downpour brought by Tropical Storm Kilo. Flooded with rainwater, the local sewer system spilled out onto the streets and drained into the surf.
Wastewater erupted in fountains from manholes and streamed down into the ocean through the beach area of the popular tourist destination hosting some of Hawaii's biggest hotels, Lori Kahikina, Honolulu director of environmental services, told reporters according to NBC affiliate KHNL.
The now-closed beach area is nearly 6.5 kilometers long, stretching from Kapahulu Avenue in Waikiki to Point Panic in Kakaako.
Warning signs have been posted in the area and police and lifeguards are turning visitors away.
"As it goes into the recreational waters... we're going to advise the public to stay out of the water," Matthew Kurano, an environmental health specialist with Hawaii's state Health Department told KHNL.
It might take several days before the authorities clean the beach enough for the people to safely enter the sea. Until then swimming in the area is prohibited.
"You could get a serious infection, get extremely sick or even worse," said Shayne Enright, a spokeswoman for the city's Department of Emergency Services, adding: "We don't know right now what is in the water."
The epicenter of the spill was at the Ala Moana Beach Park at the edge of Waikiki, where sewage poured out from manholes on the street right in front of a shopping mall.
"I saw a lot of water that smelled bad and basically it was over the road," Steve Casar, of the Waikiki Yacht Club, told KHNL.
To a certain extent the problem was caused by the locals who tried opening manholes to redirect upcoming storm water into sewage system to prevent homes and cars from flooding. But large quantities of rainwater overwhelmed the sewage system, Kahikina told reporters.
The last time a similar incident took place was in 2006, when because of heavy rains some 180,000 tons of sewage waters poured into Waikiki's Ala Wai Canal bordering hotels and homes. That disaster led to temporary closure of beaches in the area.
Meteorologists warn that Tropical Storm Kilo will strengthen over the next days, but is unlikely to affect the Hawaii Islands directly.
Still, authorities have been warned of light flooding on the islands and have closed two schools and several other facilities, including the Honolulu Zoo.