Law banning Down syndrome abortions mulled in Ohio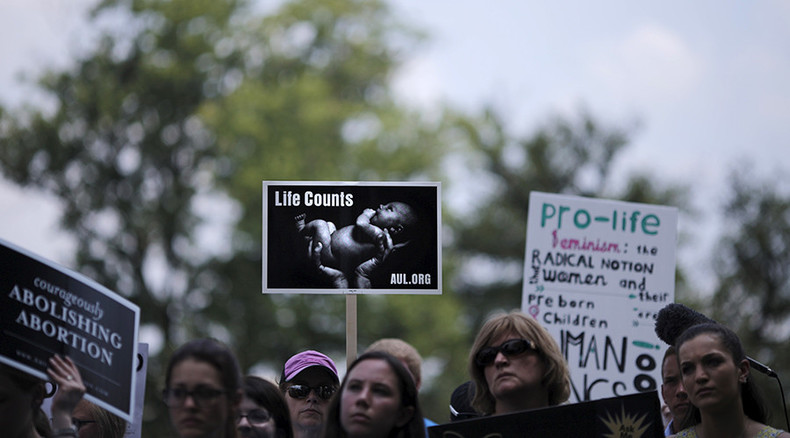 Ohio might become the first state to ban abortions based on a fetal diagnosis of Down syndrome. Critics are calling the proposal a ploy to attack abortion rights, while sponsors argue that it aims to protect the disabled from discrimination.
Republican lawmakers behind House Bill 131 say their goal is to ban the prevalent practice of abortions in case of a Down syndrome diagnosis, which national medical studies put as high as 90 percent.
"The idea is just because somebody is handicapped we don't want to put them to death," state representative John Becker told CNN. "The pro-life movement really means pro-life for all innocent human life."
"Choosing to end a person's life simply because of this diagnosis is discrimination, period," said Rep. Sarah LaTourette, another sponsor of the bill, at a hearing in May. "I hope that you can see that this isn't an issue about abortion — it's an issue of discrimination. Discriminating against a person, not allowing them their God-given right to life, simply because they might have Down syndrome," she added.
A 2012 medical study in the journal Prenatal Diagnosis found abortions following a diagnosis of Down syndrome in 60 to 90 percent of the cases, based on data from 1995 to 2011. Researchers did note that more mothers opted for giving birth following a Down syndrome diagnosis.
READ MORE: Caught on camera: Top Planned Parenthood doctor talks of selling fetal organs on black market

One Ohio anti-abortion activist says she was pressured to have an abortion when one of her three children was diagnosed with Down syndrome. She refused, and the diagnosis turned out to be wrong. Rachel Mullen now heads a county chapter of the Ohio Right to Life, and backs HB 131.

"As soon as babies are born, they're protected by the Americans With Disabilities Act, but we need this bill so that they can be born, and not culled," Mullen said, according to the New York Times.
Pro-abortion groups, however, are blasting the law as unenforceable, unconstitutional, and a violation of doctor-patient privilege. They see the measure as a creeping attempt to undermine the legality of abortion, as decided by the 1973 US Supreme Court verdict in Roe v. Wade.
"They're trying to encroach on the right to abortion, step by step, and turn a woman's health care decision into an issue of discrimination against the fetus," Sara Ainsworth of the National Advocates for Pregnant Women told the New York Times. "I can't imagine how any of these laws would be enforceable."
"These legislative proposals interfere with the doctor-patient relationship and exploit complicated issues that can arise during pregnancy in the worst way," Kellie Copeland of NARAL Pro-Choice Ohio said in a statement. "Medical decisions should not be made in the Statehouse, they should be made in doctors' offices based on sound medical science."
Ohio's law would be the first in the US specifically banning Down syndrome abortions. Similar laws have been proposed in Indiana, Missouri and South Dakota this year, but failed to pass. Arizona, Kansas, North Carolina, North Dakota, Oklahoma, Pennsylvania and South Dakota have banned abortions based on gender selection. North Dakota adopted a more comprehensive ban on abortions due to "fetal genetic anomalies" in 2013.
The proposal has attracted national attention because Ohio governor John Kasich is one of the contenders for the Republican presidential nomination. Kasich has brushed off questions about abortion calling it the "law of the land," and has previously said he did not oppose abortions in cases such as rape or incest.
However, NARAL has denounced Kasich as a "phony" and cited 16 measures he signed into law that "harm women's access to reproductive health care and abortion, including defunding Planned Parenthood." Half of Ohio's abortion clinics closed down since Kasich became governor in 2011, the group said.
Planned Parenthood has also faced criticism and initiatives to cut its state funding, following the release of several videos accusing the organization of trafficking in body parts of aborted fetuses, sometimes without the mothers' consent. The videos were filmed by Center for Medical Progress, an anti-abortion group.
While seeking to defund Planned Parenthood, Ohio Right to Life wants to channel state funding into pregnancy crisis centers, NARAL spokesman Gabriel Mann told the Cincinnati Enquirer. These centers, he said, did not offer the full range of contraceptive options to women. "Contraception is critical to helping women plan their pregnancies and reducing the infant mortality rate in the state of Ohio."