'Loose tweets destroy fleets': Air Force warns of social media dangers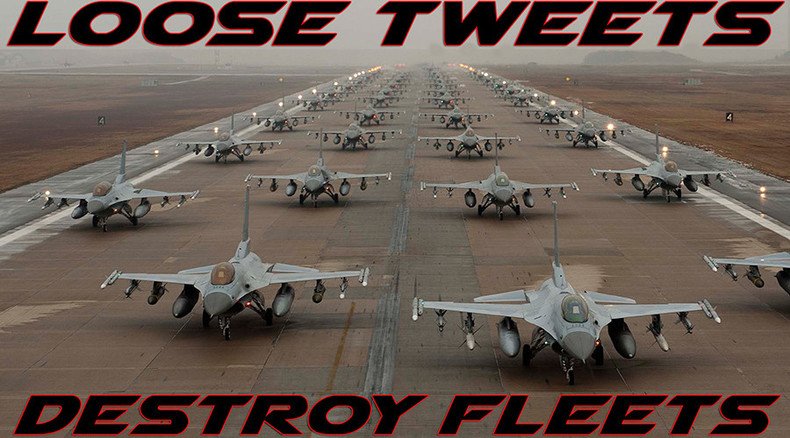 Posting status updates on Twitter and Facebook in the modern day can potentially put individuals in danger of losing their jobs, but the US Air Force is warning service members that posting on social media can even "destroy fleets" if they're not careful.
The new warning comes directly from US Air Forces Central Command officials at the Al Udeid Air Base in Qatar, accompanied by a photograph featuring a fleet of jets and text saying, "Loose tweets destroy fleets."
Specifically, the Air Force says that even though social networks have allowed service members to keep in touch with people back home, they should be wary of posting information that could potentially identify family members, friends or the military members themselves. Social media messages could potentially reveal location data and individuals could reveal information about deployments, facility locations, training methods and more.
READ MORE: Top Gun? Simulating a flight in the 'less than impressive' F-35 (VIDEO)
"As social media keeps evolving and there's more and more avenues to let your friends and family know what you are up to, those same avenues can be used by ISIS sympathizers, 'lone wolves,' to track down and hurt our military members outside the safety of the base," Capt. Jonathan McDonald, AFCENT Force Protection chief wrote in the August 14 message.
"Not only is it important to not post vital mission related information, but it's also important to not post detailed personal information to keep yourself and your loved ones safe."
McDonald went on to remind Air Force members to make sure their settings on social media are appropriate and that only friends and family can see what they post.
Notably, this isn't the first time the military has cautioned service members about speaking too freely, be it on the internet or in real life. During World War II, the Navy used the slogan "Loose lips sink ships" to warn members to stay on guard about revealing potentially sensitive information.
In June 2015, the Navy updated that slogan for the internet age, releasing a video titled "Loose tweets, sink fleets." The video warned that social media has helped enemies gain information about military forces and their family members, that that members should be aware of what they're posting, what hashtags they're using, and what type of security settings they have enabled.
"What may seem like an innocent post or tweet might just be the missing puzzle piece that aids the enemy," Petty Officer 2nd Class Jonathan Pankau says in the video.
You can share this story on social media: