After Colorado spill, attention turns to threat of old mines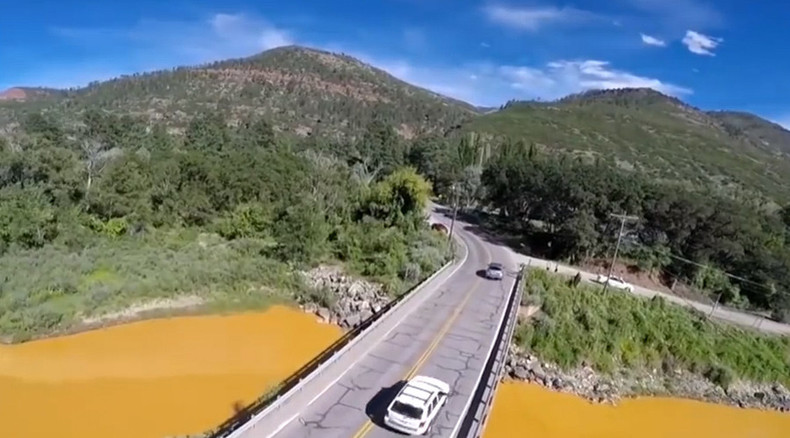 Colorado is scrambling to address 230 abandoned mines, which leak enough heavy metals to rival the Gold King disaster every two days. Tens of thousands of old mines dot public lands in the western US, and 80 percent are in need of remediation.
Environmental Protection Agency (EPA) reclamation of the Red and Bonita mine led to the release of some 3 million gallons of sludge from the nearby Gold King site earlier this month, turning the Animas River orange and sending a 100-mile long plume of toxic metals through Colorado, New Mexico, and Utah.
Now Colorado officials are looking into other sites that pose a similar threat. While the state agencies do not track the toxic outflow from all the abandoned mines, the EPA estimates that the runoff produces enough arsenic, cadmium, copper, lead, manganese, zinc and other contaminants to rival the Gold King spill every two days, according to the Denver Post.
State officials have estimated that approximately 1,645 miles of waterways have been affected by mine runoff, including the Arkansas, Animas, Eagle, Big Thompson, Gunnison, South Platte and Uncompahgre rivers.
"We're not OK with contaminated water running into waterways," Ginny Brannon, director of reclamation, mining and safety for the state, told the Denver Post. "It is beyond our control. We inherited what we inherited. We took that, all those sites, and every year we steadily move forward with the goal of cleaning it up. We do as much as we can every year. We would love to do more. If we had the money."
As of January 2015, the Bureau of Land Management's (BLM) inventory of abandoned mines on public lands contained over 48,100 sites and 89,500 features as of January 2015. Some 80 percent of the sites require further investigation or remediation, according to the agency.
Officials cite a lack of political will and funding as the main reasons the problem of abandoned mines has gone unaddressed for decades. Colorado's mining division, which works mostly on active mines, has 65 employees and a budget of $8 million – less than the amount required for a single major clean-up. The state has spent almost $14 million on mine clean-ups and reclamation work between 2009 and 2014. A federal program for abandoned mines run by the US Geological survey was canceled in 2008, due to budget cuts.
Federal laws actually deter environmentalist groups or corporate partners who might want to step in and help. Under the Clean Water Act, anyone who engages in a mine clean-up can face federal charges and multi-million dollar liabilities for environmental damages if anything goes wrong. In 2012, the EPA launched a "Good Samaritan" initiative in order to provide some legal cover for organizations seeking to remedy abandoned mining sites.
Both mining industry and conservation groups say that EPA memos are not enough, and Good Samaritan laws are needed.
"The industry is and has been willing to contribute more resources and expertise to clean up historic mines that are not subject to modern reclamation standards," Colorado Mining Association president Stuart Sanderson told the Denver Post. "We need good Samaritan legislation and some assurance our liability is not unlimited."
Steve Krandall from the conservation group Trout Unlimited, echoed the sentiment. "We need some national policy change for groups like ours to be able to get out there and work on old mines," he said. "There could be a much more robust public-private partnership around this issue."
There are tens of thousands of abandoned hard-rock mines throughout the US, most of them in Nevada, New Mexico, Arizona and Colorado. Federal agencies have spent roughly $85 million a year on inventorying and cleaning up thousands of leaking mining sites across the western US, since Congress passed the Surface Mining Control and Reclamation Act in 1997.
Originally estimated at 1 million gallons (3.785 million liters), the Gold King spill was later confirmed to have involved at least three times that amount of toxic waste. Among the metals detected in the sludge were arsenic, cadmium, copper, beryllium, iron, lead, mercury, and zinc. The recorded lead levels alone were 12,000 times higher than normal.
The Wall Street Journal identified the contractor hired to plug the Red and Bonita mines as Environmental Restoration, LLC of Fenton, Missouri, a recipient of over $380 million in EPA contracts over the past decade.