200 US Army soldiers to fight wildfires in Western states as budgets shrink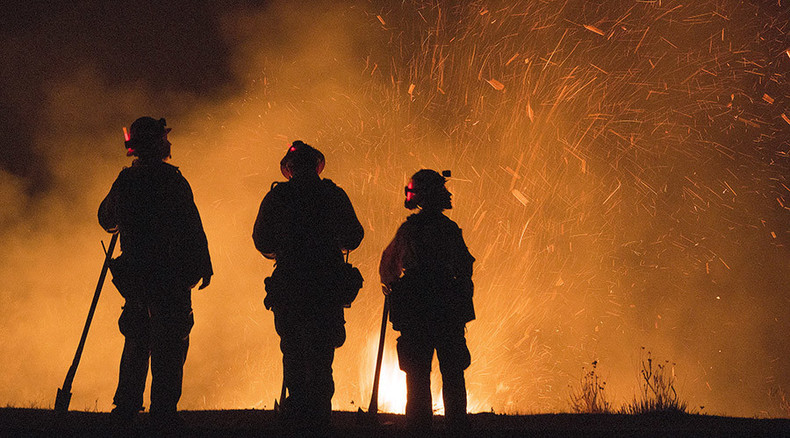 With dozens of wildfires raging in multiple Western states, the US Army is preparing to deploy 200 soldiers in order to help firefighters. The federal government is quickly burning through its annual budget as it struggles to keep flames from spreading.
The move marks the first time since 2006 that troops have been sent out against fires. It has not been decided where exactly the Army troops will be deployed, but all 200 will head out to the same fire, the National Interagency Fire Center in Boise, Idaho told Reuters. The soldiers will be split up into 10 firefighting crews, with each one composed of 20 individuals.
Meanwhile, National Guard troops were mobilized to fight fires in Washington State, the Military Times reported. There are roughly 95 wildfires currently burning in seven states, according to the Interagency Fire Center.
Although there are more than 29,000 civilian firefighters currently battling flames in states such as California, Idaho, Oregon and Washington, fires have managed to burn through more than 1 million acres. Severe drought conditions and high temperatures have made wildfire season worse as well, with the average now 78 days longer than they were 40 years ago, according to NBC News.
More than 100 houses have also been destroyed in Idaho, Oregon and Washington in the past three days.
Army troops will grant much needed help wherever they are deployed, since state resources, as well as those of the US Forest Service, are quickly shrinking. The Forest Service is burning through more than $100 million every week and that the entire yearly budget for fighting wildfires will be spent this week.
"We're out of crews, we're out of engines, we're out of helicopters," Carol Connolly of the Northwest Interagency Coordination Center, which coordinates firefighting efforts inside Oregon and Washington with the state and federal governments, said to NBC.
In Idaho, several fires near the Clearwater River have decimated at least 50 houses and taken the life of one woman in the last week or so. Homes in the vicinity have been evacuated and the fire has blazed through more than 50,000 acres, according to Reuters, but fire managers have had little luck in terms of bringing in more aircraft or crews to fight the flames.
"Our resources are stretched very, very thin," Clearwater command spokesman Ryan Greendeer said. "Each incident is having to make do with what is available, not what's needed."
As RT noted earlier in August, the Forest Service has already battled more than 36,000 fires across 2015. For the first time in its history, more than half its budget is being allocated towards wildfires. That means hundreds of millions of dollars are not going towards other agency projects, including initiatives that could potentially prevent fires from igniting in the first place.
Another issue complicating the Forest Service's capabilities is that people have continued to build on property that is much closer to forests than in the past. Since houses are in much closer proximity to wildfires, more homes are threatened and more property can potentially be destroyed when a fire occurs.
"We now have more communities that have been located in and around one of our forests," Agriculture Secretary Tom Vilsack said in a statement. "Hazardous fuel build-up has increased in part because of climate change. We see drier conditions."
As a result, Vilsack is urging Congress to reform the way the government fights fires. Currently, the Forest Service can receive federal disaster funds only after it depletes its firefighting budget, but Vilsack and other critics say this is only a stop-gap measure, since firefighting funds will continue to make up the bulk of the agency's budget. The agency said that at the current pace, 62 percent of its budget will be spent on fighting wildfires by 2025.