Video killed the sorority stars: Bama's Alpha Phi slammed for being 'so Stepford Wives'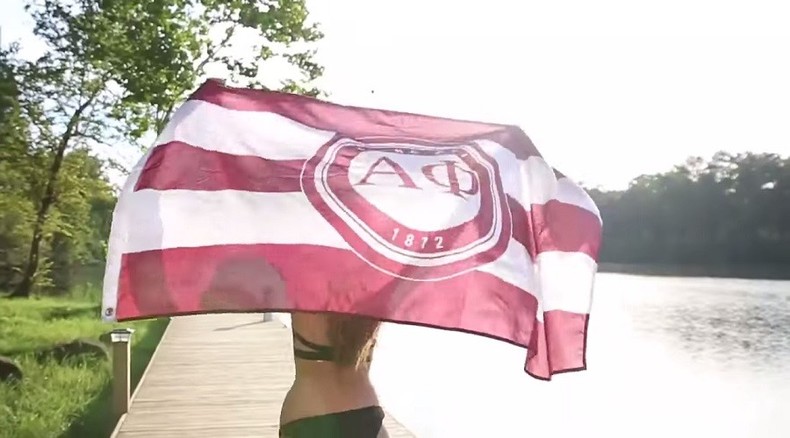 A recruitment video for a University of Alabama sorority went viral for all the wrong reasons before it was taken down. The women of the chapter have been slammed for not being politically correct and whitewashing and sexualizing Greek life.
Alabama's Alpha Phi chapter posted a video on YouTube as a way to attract potential new members ‒ incoming freshman to recruit into the sorority. The video gained 500,000 views, a lot of negative attention and even a Trump comparison before the chapter pulled the video offline, along with all its other social media sites.
The video features white women ‒ almost all of whom have blonde hair ‒ prancing around campus and their mansion-like chapter house, where 72 Alpha Phi sisters live, according to the Alabama Panhellenic Association. The girls are dressed in bikinis, short shorts and mini-dresses. They blow kisses at the camera, turn handsprings and support the university's Crimson Tide football team.
The groundswell of criticism against the slickly produced video began with an Op-Ed for AL.com by A.L. Bailey.
"It's all so racially and aesthetically homogeneous and forced, so hyper-feminine, so reductive and objectifying, so Stepford Wives: College Edition. It's all so ... unempowering," Bailey ranted.
Bailey claims that the Alpha Phi video is worse for women than Donald Trump's misogynistic views, such as when the Republican candidate called Fox News' Megyn Kelly a "bimbo" after she hosted the GOP presidential debate.
"[T]hese young women, with all their flouncing and hair-flipping, are making it so terribly difficult for anyone to take them seriously, now or in the future," Bailey wrote.
On the website Total Sorority Move, Rachel Varina bashed the bashers.
"So what does it come down to? Are we horrible, future Stepford Wives? Are we 'representing anti-feminists views?' Are we worse than Donald Trump?" she asked.
"No. Not even close," Varina continued. "We have the right to represent ourselves however we want. That's what feminism is about."
In her own Op-Ed for AL.com, Leada Gore blames the sorority girls' mothers ‒ women of her own generation ‒ for not teaching millennial women to value their bodies enough to not allow themselves to be objectified.
"We sent the message of freedom but not personal responsibility. We told you you could do anything, even if that resulted in you choosing to do nothing. Your body, your choice – and if you want to show your body off in a marketing video aimed at other women, so be it," Gore wrote. "If most of you don't have a clue who Sandra Day O'Connor or Sally Ride are, at least we made sure we dressed you in Ugg boots and short shorts and let you watch Kim Kardashian when you were 13."
Other sorority chapters on the Tuscaloosa campus made similar videos without the ensuing uproar.
The University of Alabama Panhellenic Association added a record 2,261 women to its fold on Saturday, which may be the largest overall pledge class in the nation, AL.com reported. Of those new members, 214 are minorities, a university spokesperson said.