Chelsea Manning faces indefinite solitary confinement, lawyer says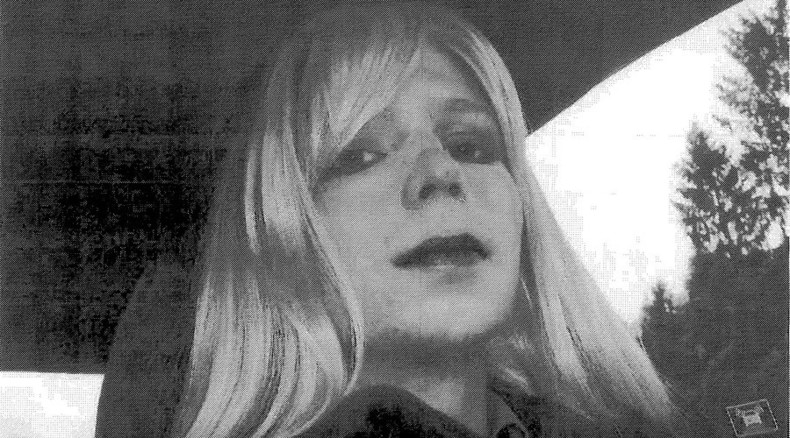 Whistleblower Chelsea Manning, who is serving a 35-year sentence for leaking thousands of classified documents to WikiLeaks, faces indefinite solitary confinement after being charged with possessing prohibited materials in prison, according to her lawyer.
READ MORE: Manning discusses fear of ending up at Gitmo in new op-ed
Prison officials have brought four charges against Manning including disorderly conduct, possession of prohibited property, misusing medicine, and being disrespectful, according to a document posted on freechelsea.com, a Chelsea Manning support group website.
Specifically, the charges involve four incidents. The disorderly conduct charge stems from an incident when she allegedly swept some food onto the floor and asked to speak to her lawyer when confronted by a guard. She is also accused of having books and magazines in her cell, and being in possession of a tube of toothpaste past its expiration date.
Manning's American Civil liberties Union lawyer, Chase Strangio, told Buzzfeed that he has yet to see the documents detailing the charges, but has been told the punishment could include indefinite solitary confinement.
"Given the materials that were confiscated, it is concerning that the military and Leavenworth [prison] might be taking action for the purpose of chilling Chelsea's speech or even with the goal of silencing her altogether by placing her in solitary," Strangio told Buzzfeed.
READ MORE: Chelsea Manning rewrites the Espionage Act
"Hopefully with public scrutiny the prison will respond by dismissing these charges and ensuring that she is not unfairly targeted based on her activism, her identity, and her pending lawsuit."
An Army spokesman did not respond to media requests to examine the charging documents, nor would he comment on them.
Manning was convicted of violations under the Espionage Act and other offenses in July 2013 after leaking thousands of classified documents to WikiLeaks. She is currently serving a 35-year prison sentence at the United States Disciplinary Barracks at Ft. Leavenworth, Kansas.
It's apparently not enough to give Chelsea Manning 35 years- now she's threatened w/long solitary over trivial claims http://t.co/MIe9bbo4qo

— Glenn Greenwald (@ggreenwald) August 12, 2015
Manning is due to appear at a prison hearing concerning the charges with military officials on August 18.
Supporters of Manning, led by Evan Greer of the Fight for the Future advocacy group, have started a petition to raise awareness of the new charges and to request that the hearing be made open to the public.
You can share this story on social media: