First responders could be inoculated with almost-expired anthrax vaccines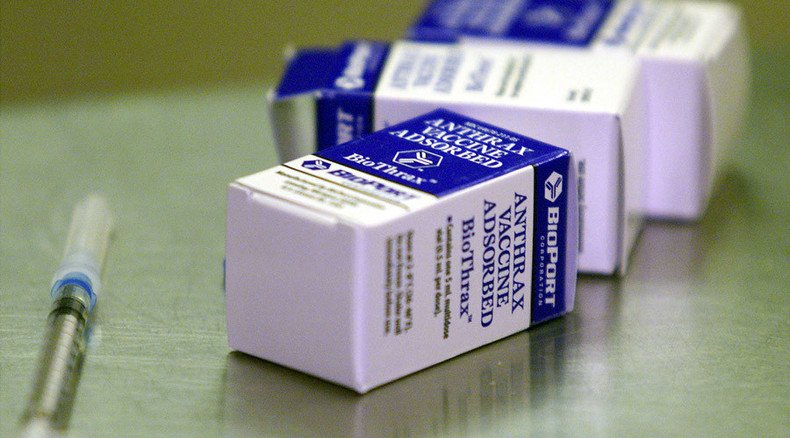 First responders may be supplied with anthrax vaccines to protect them against potential future biological attacks if the Senate passes the First Responder Anthrax Preparedness Act. The bill would also reduce waste of public health resources.
The bipartisan legislation ‒ introduced by Senators Kelly Ayotte (R-New Hampshire), Cory Booker (D-New Jersey) and Chris Coons (D-Delaware) on Tuesday ‒ would make anthrax vaccines available to first responders on a voluntary basis, provided those vaccines were either surplus or close to expiration. The preventative medicine would be provided from the Strategic National Stockpile.
"Unfortunately, an estimated 4 million doses expire unused each year and are thrown away, when they could instead be used to better protect our first responders and help prepare them to respond to possible anthrax attacks," the senators said in a statement.
HR 1300, the House of Representatives version of the bill, would also direct the Department of Homeland Security (DHS) to create a two-year pilot program to distribute the vaccines to first responders. It would include selecting providers to participate in the test, training people to administer the vaccines, and conducting an economic analysis of the program.
"We're pleased that DHS has begun working with the Centers for Disease Control on a pilot program to do just that, and we are hopeful that the Homeland Security and Governmental Affairs Committee will take up and pass our legislation so that we can better support the first responders we rely upon in emergency situations," the three senators said.
The bill passed the House of Representatives 424-0 at the end of July. Representative Peter King (R-New York) introduced the legislation in March.
"My regret is that it took so long to get Congress to act," King posted on Facebook when the bill passed. "Let me thank, however, the International Association of Fire Chiefs who endorsed my bill stating that 'this legislation would provide a crucial tool to protect firefighters and EMS when responding to acts of terrorism and other emergencies involving anthrax.'"
Vital that House passed my anthrax vaccination bill (424-0). Will make the vaccine available to first responders in event of anthrax attack.

— Rep. Pete King (@RepPeteKing) July 29, 2015
According to a June analysis by the Congressional Budget Office, implementing the First Responder Anthrax Preparedness Act would cost approximately $4 million from 2016 to 2020.
The Obama administration ‒ with help from at least four federal departments, including DHS ‒ created an initiative in 2012 to offer select state and local officials the option of receiving a federally funded course of anthrax vaccination doses for first responders, Global Security Newswire (GSN) reported at the time.
"If a major city is hit with anthrax and it's a dry powdered form or we think there's a significant possibility of secondary aerosol invasion, we know we can send in the US military to help out because they're pretty well protected with vaccines," Randall Larsen, chief executive officer of the WMD Center in Washington, told GSN. "Wouldn't it be nice if we knew that the majority of the public health people in that city and law enforcement personnel were also protected?"
That pilot program is expected to last 18 months, which is approximately how long the "priming series" of the standard anthrax vaccine regimen takes, with five shots over an 18-month period. Once the priming series is complete, recipients are inoculated with boosters on a yearly basis to sustain immunity.
A 2013, a presidential commission recommended that anthrax vaccination trials be carried out on children, noting that in the event of a mass bioterrorist attack a large proportion of the victims would be children.
Anthrax is a bacterial disease caused by Bacillus anthracis, which is a naturally occurring organism commonly found in herbivores, according to the Washington Department of Health. People can become infected with anthrax by breathing in anthrax spores from infected livestock carcasses, as well as animal products such as wool, hides, leather or hair.
You can share this story on social media: