Burning Man festival permit battle ends as feds back off $1mn facility requirement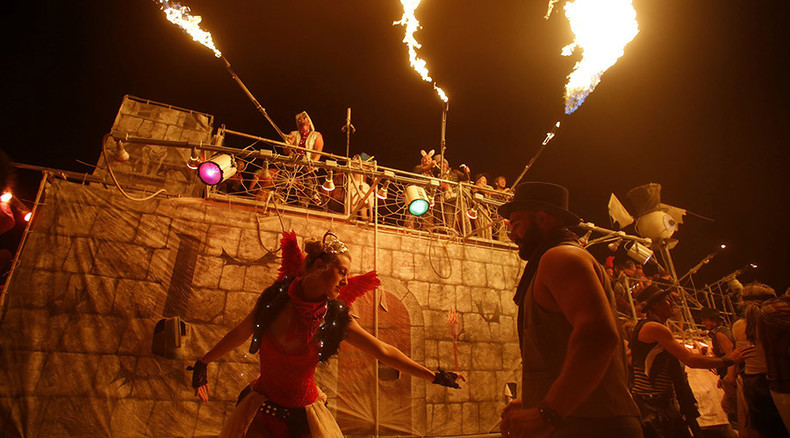 The Burning Man festival was finally able to secure a permit allowing it to use federal land in Nevada after the US Bureau of Land Management rescinded its request for a $1 million facility intended to cater to federal employees.
The festival, which celebrates art, creativity and human connection in the desert every year, had applied for a permit for its August 30 event in the Black Rock Desert of Nevada, but the BLM held up the process, requesting special VIP accommodations for its employees and other federal officials as a requirement.
The request included the construction of a housing facility to be called the "Blue Pit Compound," which was to provide hot water, air conditioning, refrigerators, laundry machines, flushing toilets, and more for federal officials, according to documents gathered by the Reno-Gazette Journal.
The BLM request was sometimes surprisingly specific, demanding 24-hour access to ice cream, specifically Choco Tacos.
Senate Minority Leader Harry Reid (D-Nevada) called the request "unprecedented and extravagant," as well as "outlandishly unnecessary," the Hill newspaper reported.
All told, the compound would have cost $1 million and would have ballooned the costs for acquiring Burning Man's federal permit to $5 million.
"We've made tremendous progress over the past six weeks to agree on common sense solutions that meet BLM's needs and ensure the health and safety of those supporting and participating in the Burning Man event," said Burning Man CEO Marian Goodell in a statement. "That being said, there's an important amount of work to do after the 2015 event. We're all committed to further discussion regarding the permitor – permittee relationship and what is required for BLM to properly administer the permit."
There will still be a BLM-designated compound at Burning Man, the Reno-Gazette stated, which will be used for safety and security purposes. The same company catering for Burning Man will also be used for BLM.
"We worked to maximize the efficiency of the operation, and it's essentially back to where it was last year," BLM Nevada spokesman Steven Clutter said to the paper.
The number of people who can attend the weeklong event will be capped at 70,000 people as part of the permit requirements, Goodell said on the festival website.
You can share this story on social media: