Mothers, infants face mandatory drug testing at Cincinnati hospitals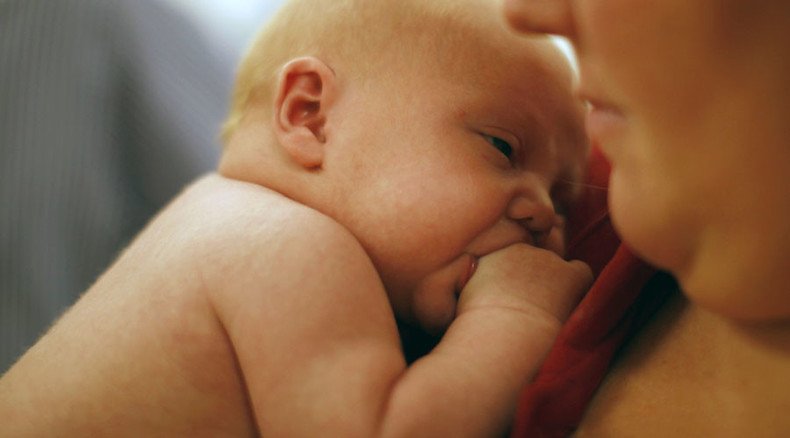 A group of Cincinnati hospitals has mandated drug testing of new mothers and infants amid an 841 percent increase in the number of expectant Ohio mothers found to have an opioid addiction in the last decade, according to state health officials.
Seven hospitals in the Cincinnati area have universally tested for drugs since late 2013. The number of newborns in the area that were exposed in the womb to Percocet, methadone, heroin and other opiates quadrupled from 10.8 infants per 1,000 births in 2009 to 46 per 1,000 births in the first three months of 2013, according to Cincinnati Children's.

As America's heroin epidemic has worsened, more attention has been paid to Neonatal Abstinence Syndrome (NAS), or the withdrawal newborns can experience due to a mother's drug abuse. NAS can cause relentless irritability, poor feeding and diarrhea in the immediate days following birth.
READ MORE:Deadly US heroin epidemic driven by whites, women and the rich – CDC survey

In Ohio, there was a 760 percent increase in babies diagnosed with NAS from 2004 to 2013, the state health department reported last month.

"Testing is designed to help the family, the mother and the infant," said Scott Wexelblatt, medical director of regional newborn services at Cincinnati Children's. "It enables us to ensure that the hospital can monitor the infant after birth and provide the appropriate care if the infant begins to show withdrawal symptoms."

Under the Ohio program, mothers are asked to take part in testing. If they refuse, the newborn will be tested. A quarter of women who tested positive for opiates would not have revealed they were opiate users through simple screening processes, Wexelblatt told Reuters.

The hospitals said that women who test positive for drugs are not subject to criminal prosecution in Ohio, helping the program's success. Tennessee, Alabama, and South Carolina, however, subject women using illegal drugs during pregnancy to prosecution, according to National Advocates for Pregnant Women. Five other states have criminalized drug use during pregnancy.
READ MORE:Mother gets 20 years for infant's death due to 'negligent breastfeeding'
"Criminalizing pregnancy outcomes scares women away from prenatal care and drug treatment and mandates separating mothers from their babies just when they need each other the most," said Farah Diaz-Tello, staff attorney for the National Advocates for Pregnant Women, regarding Tennessee's criminalization efforts in 2014.
"Women who cannot afford private treatment for their addiction and who fear arrest and separation from children they already have may feel as though abortion is the only way to keep their current families together."

Drug treatment for infants usually requires about 13 days in a hospital, accordion to Wexelblatt. If non-drug steps fail to reduce withdrawal effects, babies are given methadone.

The state of Ohio provided $1 million to help the hospitals determine how many infants were exposed to various types of drugs.
READ MORE:120 deaths a day: US heroin & prescription drugs epidemic spinning out of control

Nationally, there was a 100 percent rise in heroin addiction in the US between 2002 and 2013.

Heroin and prescription painkillers killed around 60 people per day in 2013, according to US drug officials.
"There were over 43,000 deaths in 2013, or approximately 120 per day, over half of which involved either a prescription painkiller or heroin. These are our family members, friends, neighbors, and colleagues," Jack Riley, acting deputy administrator of the US Drug Enforcement Agency, told a House of Representatives judicial committee in July.

Drug deaths now outnumber deaths from gunshot wounds ‒ over 33,600 ‒ and motor vehicle crashes ‒ over 32,700 ‒ in the United States, according to the US Centers for Disease Control and Prevention (CDC).

The biggest gateway to heroin is an addiction to prescription drugs. Increases in overdoses seen among women and the wealthy may be accounted for by previous addiction to prescribed pills, the CDC said.
You can share this story on social media: