Texas voter ID law discriminates against minorities – federal court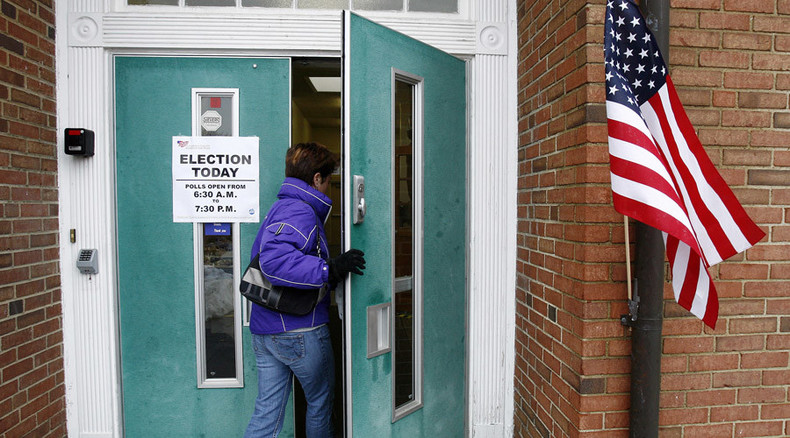 A federal appeals court has ruled that Texas' voter identification law carries a "discriminatory effect" and violates the Voting Rights Act. The move is being seen as a victory for President Obama.
The decision was handed down by the 5th U.S. Circuit Court of Appeals on Wednesday, one day before the 50th anniversary of the Voting Rights Act.
Passed in 2011, Texas' voter ID law – one of the strictest in the nation – required voters to have specific types of photo identification, rejecting many of those often used by minorities and students.
For example, the list of seven approved forms of identification included concealed-handgun licenses, but not university IDs.
The plaintiffs – including individual voters, civil rights groups, and the Department of Justice – said the law was discriminatory because a greater share of minorities and poor people do not have access to the accepted forms of IDs, and lack easy access the documents needed to obtain them, such as birth certificates.
The Justice Department argued that the law would prevent as many as 600,000 voters from casting a ballot because they lacked an approved ID.
The Wednesday decision concurs with a 2014 ruling by a federal district court in Texas, which also deemed that the law had a discriminatory effect on voters. But despite the lower court striking down the law, it was allowed to remain in effect because the decision had come so close to the 2014 mid-term elections.
"We conclude that the district court did not reversibly err in determining that SB 14 violates Section 2 by disparately impacting minority voters," the appeals court wrote in the 3-0 decision.
READ MORE: Wisconsin's tough voter ID law upheld after Supreme Court declines to hear case
However, the district court also said in 2014 that Texas legislators had deliberately adopted a discriminatory law. The appeals court did not echo that sentiment on Wednesday.
The three-judge panel has sent the law back to the district court, ordering it to re-examine its conclusion that the discrimination was intentional.
Although the Wednesday ruling has been celebrated by Democratic lawmakers and civil rights activists, Texas Gov. Greg Abbott – who defended the law in while serving as state attorney general – expressed less enthusiasm.
"In light of ongoing voter fraud, it is imperative that Texas has a voter ID law that prevents cheating at the ballot box," Abbott said. "Texas will continue to fight for its voter ID requirement to ensure the integrity of elections in the Lone Star State."
Texas can appeal to the full Fifth Circuit of Appeals in New Orleans, or the United States Supreme Court, though Abbott has not mentioned if the state will be doing so.