US Capitol gyrocopter landing exposes security flaws, communications breakdown – Senate report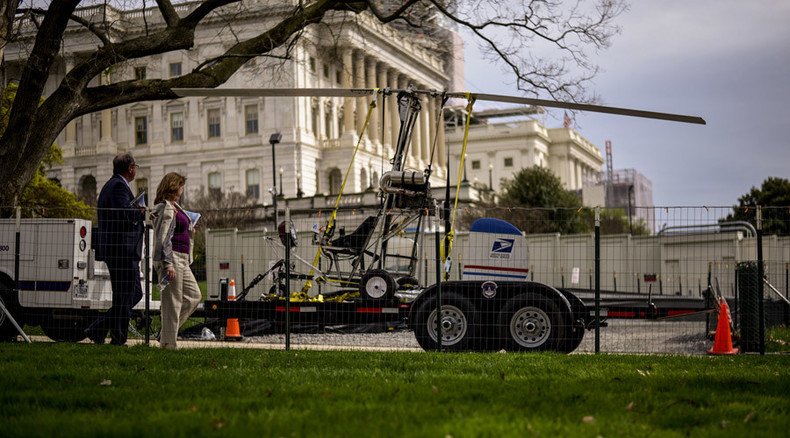 Gaps in air security and lack of coordination between federal agencies allowed a Florida-man to land his gyrocopter at the US Capitol in April, a bipartisan Senate report said. It urges stricter punishment for airspace violations in Washington.
The 21-page document by the Senate Homeland Security and Governmental Affairs Committee stressed the need for improved information-sharing between security officials and called for a lead agency to be assigned to investigate potential flight incursions.
Murky lines of responsibility over the airspace above the US Capitol, White House, National Mall and the vice president's residence caused breakdowns in communication between the Secret Service, US Park Police and Capitol Police, the report said.
On April 15, Florida mailman Douglas Hughes traveled from Pennsylvania to Washington and landed his small unauthorized aircraft on the west lawn of the Capitol.
He was carrying a bag of 535 letters addressed to each member of Congress in an attempt to bring public attention to campaign finance corruption in US politics.
READ MORE: Gyrocopter pilot who landed on Capitol lawn indicted on 6 charges
"Law enforcement agencies need to do more to help ensure people such as Mr Hughes are not able (to) slip through the cracks and carry out unlawful and unsafe plans, especially within or near our nation's capital," committee Chairman Ron Johnson, a Wisconsin Republican, said in a statement.
According to the report, the radar failed to detect the gyrocopter as its low speed and altitude made it undistinguishable from a bird, a balloon or a meteorological pattern.
The senators said that the limited technological capability to prevent similar airspace violation in the US capital was a major issue.
US security agencies are still working on solutions that could neutralize drones and small aircrafts in sensitive airspace, with jamming being among the priority options.
On the day of the incursion, Secret Service and Capitol Police failed to properly react to the information that Hughes was flying his gyrocopter and showed lack of cooperation, the document added.
"Despite technological limitations, law enforcement officials had the opportunity to conduct further analysis of Mr Hughes and his intentions two years before the gyrocopter incident occurred," Johnson stressed.
Hughes made no secret of his plans to fly to the grounds of the US Capitol or White House and was interviewed on the issue by the Secret Service back in 2013.
The agents ruled that the 61-year-old posed no threat and closed the case, despite Hughes's relatives contradicting claims that he never owned a gyrocopter.
The Capitol Police opted not to do an investigation at all, fully relying on the incomplete findings of the Secret Service, the report stressed.
Hughes also revealed his plans to the Tampa Bay Times newspaper, which posted a story about the man as soon as he took off for Washington and then posted photos of his gyrocopter flying above Washington on Twitter.
Hughes was indicted of six charges, including violation of registration requirements for aircraft, violation of national defense airspace, and operating a fake postal vehicle, and could face nearly 10 years in prison.
The man pled not guilty to the charges, but he lacks funds to pay his lawyers after being fired by the Post service.
On Wednesday, it was announced that Hughes will launch an online fundraiser to pay for his a First Amendment legal defense.
You can share this story on social media: