'We woke up to disaster': Torrential rain swamps Tampa, worst flooding in 65 years (VIDEO)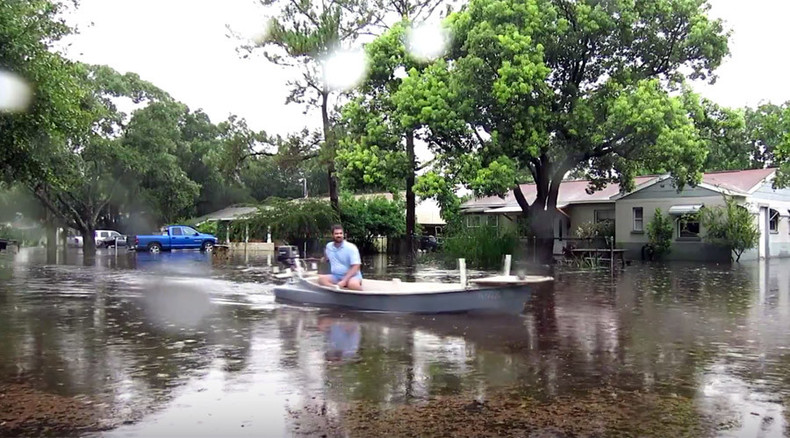 Days of torrential rainfall have left large portions of Tampa, Florida under water. With more than half a foot of rain reported in some areas, dozens of roads have been closed and rescue workers have saved more than three dozen people.
In fact, there has been so much flooding that the Pasco County Sheriff's Office said that it is supposed to be the worst situation in more than 65 years.
Sheriff Nocco: Please be off the roads in Pasco by 3 pm in the AFFECTED FLOODED AREAS ONLY! Flooding is supposed to be worst in 65+ years!

— Pasco Sheriff (@PascoSheriff) August 3, 2015
The Tampa area has seen significant amounts of rainfall every day since July 20, the Washington Post reported. On several days, between two and three inches of rain have fallen, while this past Saturday and Sunday some four inches of rain were reported.
Another two inches had fallen by the point of publication on Monday, pushing the Pasco sheriff's office to urge drivers to be off the roads by 3:00pm A flood warning was also in effect until 4:30pm local time.
To make matters more difficult, high tide at St. Petersburg Pier was expected to be one or two feet higher than normal. Meanwhile, the Anclote River was set to rise by nearly seven feet to 26.5 feet by Monday afternoon, well past the major flood stage of 24 feet
"We woke up to a disaster this morning," Cynthia Reyes told the Tampa Bay Times.
According to the National Hurricane Center, there's a 10 percent chance of the current rainstorms to transform into a tropical storm.
Of more immediate concern, though, is ensuring that residents remain safe throughout the flooding. On Monday, 40 people were evacuated from trailer parks at Sherwood Forest RV and Caledesi Travel Trailer Park in Pinellas County, Palm Harbor Fire Rescue said. Water levels in the area were reported to be somewhere between three and four feet.
Voluntary evacuations also took place at Suncoast Gateway Mobile Home Community, where 13 elderly residents were helped off the premises by rescue workers, according to the Tampa Bay Times. Another eight to 10 families were taken out of an apartment complex in Hillsborough County.
Meanwhile, nearly 50 roads have been closed off due to flooding, reported CBS affiliate 10 News. Drivers who didn't manage to make it off the roads faced extremely difficult driving conditions.
The Busch Gardens Tampa theme park also closed for the day, as did an opportunity for the public to sit in on a training day for the NFL's Tampa Bay Buccaneers.
On YouTube, multiple videos were uploaded depicting the situation in Tampa. One showed a man intercept a burglar who was trying to steal his car, even as a police officer was slowly trudging through the water to get to the scene.
Another, more uplifting video, showed a man in a wheelchair struggling to move through high waters and receiving aid from local residents.
You can share this story on social media: