'Don't spy on me!' How to opt out of Windows 10's intrusive defaults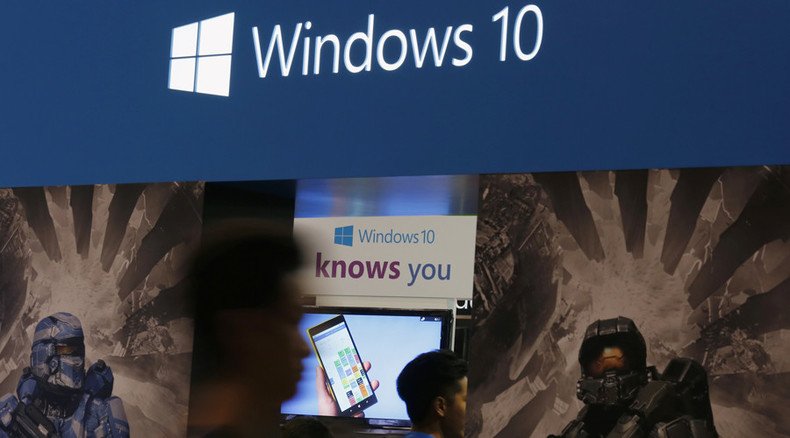 Windows 10's pre-installed settings are privacy-intrusive by default, so changing those setting is just a matter of self-respect - and also a message to Microsoft.
Following the release of Microsoft's new Windows 10 operating system, experts pointed out that it has little care for privacy, collecting on factory presets all available information about you, be it your location history, text messages and any information your share via them, personal contacts and calendar notes about your plans for exact dates, among other things.
READ MORE: 'Incredibly intrusive': Windows 10 spies on you by default
"Microsoft collects information about you, your devices, applications and networks, and your use of those devices, applications and networks," says the Privacy Policy and Terms and Conditions nearly all of us accept without reading. "Examples of data we collect include your name, email address, preferences and interests; browsing, search and file history; phone call and SMS data; device configuration and sensor data; and application usage."
What is this all about? The first thing coming to mind is targeted ads bombardment as well as selling undesired services.
"We will access, disclose and preserve personal data, including your content (such as the content of your emails, other private communications or files in private folders), when we have a good faith belief that doing so is necessary to," the document says.
However, all is not lost. There are a number of steps you take to protect your privacy.
Immediately after installing the new system on your computer, you can deactivate most of the shameless default settings you would never turn on yourself if anybody bothered to ask your opinion.
Here is exactly what you could do first if you don't want to feed your personal data to Microsoft corporate databases "voluntarily":
- Read Terms and Conditions. For real.
- Turn off some of the default presets in the newly installed system (Settings - Privacy), as tech news outlet BGR suggests.
- Disable sharing your internet connection over Wi-Fi, it's a bit too generous an invitation for everybody out there (Path: Start Menu / Change Wi-Fi settings / Manage Wi-Fi settings / turn off all the boxes you want to keep for yourself).
- Windows 10 syncs your machine with Microsoft servers by default, so things like web browser history, Wi-Fi network names with passwords, mobile hotspot, apps you install and favorites you choose are potentially being stored on their servers forever. This data "sharing" should be deactivated - in Settings.
Other Windows 10 features to be aware of:
- Windows 10 also generates a unique Microsoft ID for each and every user on a particular device. This ID can be used for targeted advertising – and it could end up with third parties, be it apps or ads developers, and they will all come to your laptop to sell what they think you need.
- By default, Windows encrypts the drive it is installed on automatically, generating a BitLocker recovery key that is backed up in the Microsoft OneDrive online account. This is also done automatically, so beware of this feature when your device encryption is on.
- All updates from Microsoft require collection of basic information about apps installed and networks you're connected to.
- If you choose to use the Cortana Search Assistant, you should know that this feature will use any personal information it can get to tailor your online experience.
"If you open a file, we may collect information about the file, the application used to open the file, and how long it takes any use [of] it for purposes such as improving performance, or [if you] enter text, we may collect typed characters, we may collect typed characters and use them for purposes such as improving autocomplete and spell check features," the Privacy Policy and Terms and Conditions users accept says.
Windows 10 does contain a great deal of extremely handy and helpful features that can really make your web surfing and data management easier than it is now. However, this comes at a price of certain loss of privacy, which could be involuntary.
But if you have the slightest suspicion that you'd better keep your life a private undertaking – you should go to the Windows 10 Start Menu and disable anything that looks inappropriate for public sharing.
The problem is that even if you ask Windows 10 to stop collecting your data, will it really listen to your plea?
You can share this story on social media: