Tires of fire: Plane evacuated after wheels start burning (PHOTOS, VIDEO)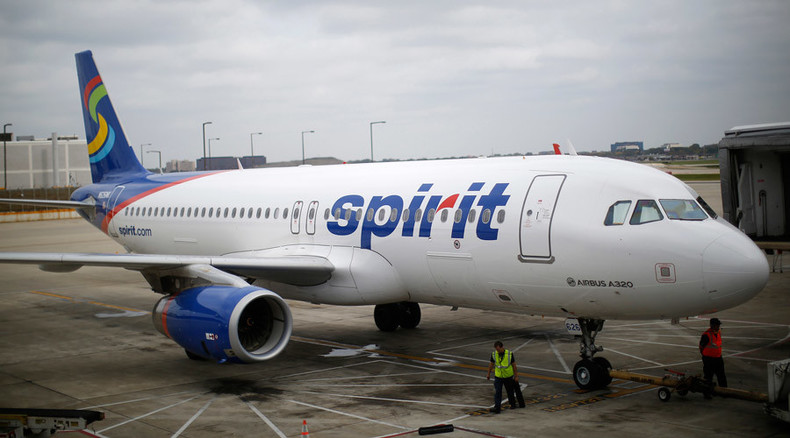 A Spirit Airlines plane was evacuated at Texas' Dallas/Fort Worth (DFW) Airport after its wheels caught fire. It was the second aircraft to undergo emergency evacuation procedures Thursday afternoon due to incendiary issues. Three people were injured.
The landing gear of Spirit Airlines flight 407 burst into flames as it landed in Dallas at 12:30 p.m. local time. It was taxiing to the gate when the crew disclosed a possible brake fire, KTVT reported, citing the Federal Aviation Administration.
According to passenger tweets, the flight crew "bragged about getting us here quickly" from Orlando, Florida, but then remained mute on the emergency once the plane was on the ground.
The tire fire was extinguished quickly by the DFW fire department. No one was hurt as the passengers deplaned, and the aircraft was towed to the gate.
"The fire was put out in less than five minutes," passenger Ryan Duong told WFAA.
The evacuation of the Spirit plane occurred shortly after an American Airlines (AA) flight bound for Chicago, Illinois was evacuated at DFW after reports of possible smoke in the cabin.
"The flight was ready for departure when the incident occurred. Our fleet service team was still on the ramp and assisted passengers and crew with a successful evacuation of the aircraft," American Airlines' Director of Communications Andrea Huguely said in a statement.
The 141 passengers and five crew members on AA flight 1658 were evacuated from the McDonnell Douglas-80 (MD-80) via emergency slides on the tarmac. Three people received minor injuries during the deplaning process.
There was no fire, but the passengers were placed on another aircraft, AP reported.
American Airlines is phasing out its MD-80 aircraft, which average 23 years old, or nearly double the rest of their fleet's age of 12 years. American is set to replace all of the 140-seat airplanes by the end of 2017, the company's chief financial officer, Derek Kerr, said last Friday, according to the Dallas Morning News.