Confederate flag drive-by at black kid's birthday party sparks trouble in Georgia (VIDEO)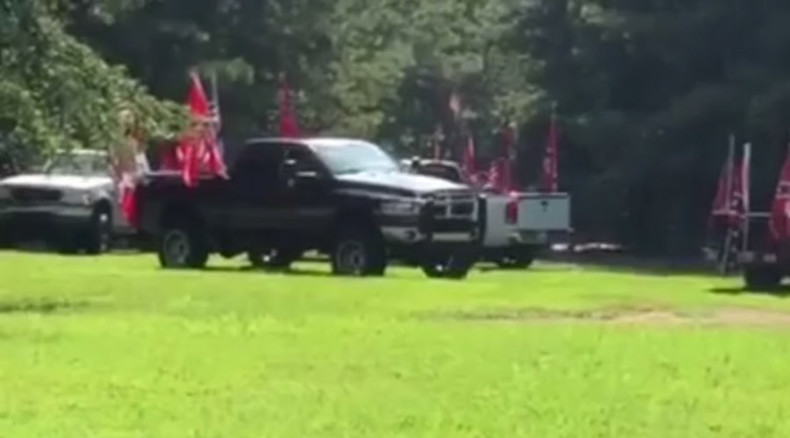 Racial tensions flared in Georgia when a group of pickup trucks flying American and Confederate flags drove by the birthday party of a black kid in Douglasville, west of Atlanta.
The final stage of the ugly episode is shown on two cellphone videos filmed by partygoers. The clips show a Douglasville police officer holding off a group of agitated black men and women as at least seven trucks brandishing various flags drive by.
What events led to this outcome remains unclear, with witnesses giving conflicting statements to the police.
Melissa Alford, who was among the party crowd, said the flag rally interrupted the celebration at the family property with death threats and racial insults.
"One had a gun, saying he was gonna kill the [racial insult]," Alford told The Atlanta Journal-Constitution newspaper. "Then one of them said gimme the gun, I'll shoot them [racial insult]."
Levi Bush, who drove one of the vehicles, said the encounter was unfortunate and unintentional and that the tension was escalated by the partygoers, who started throwing rocks at the convoy as it was passing by.
A tire ran flat on one of the trucks forcing them to pull into a nearby driveway. The vehicles were surrounded by the angry partygoers, Bush told the newspaper.
"Basically about eight of us had to hold 15 to 20 of them back," Bush said.
Both sides accuse each other of drawing weapons, but police said it found no evidence of shots being fired. They are now reviewing footage of the incident to determine whether "any criminal activity occurred," the police said in a statement.
The confrontation never escalated into a physical altercation, the newspaper reported.
The Confederate flag is considered a racist symbol by many in the United States. During the 1861-65 Civil War it was the flag of the Confederacy, a group of slave-owning states that seceded from the Union. After the Confederacy was defeated the flag was adopted by many southern groups, including white supremacists. Some people, however, consider the flag a symbol of their southern heritage and reject the idea that it is racist.
The flag controversy was reignited last month by a massacre at a well-known black church in South Caroline. Self-described white supremacist Dylann Roof stands accused of killing nine people at a Bible study meeting. The killings sparked widespread calls to have Confederate flags and other racially-charged symbols taken down in southern states.