Obama marching Israel to 'door of the oven', says presidential hopeful Huckabee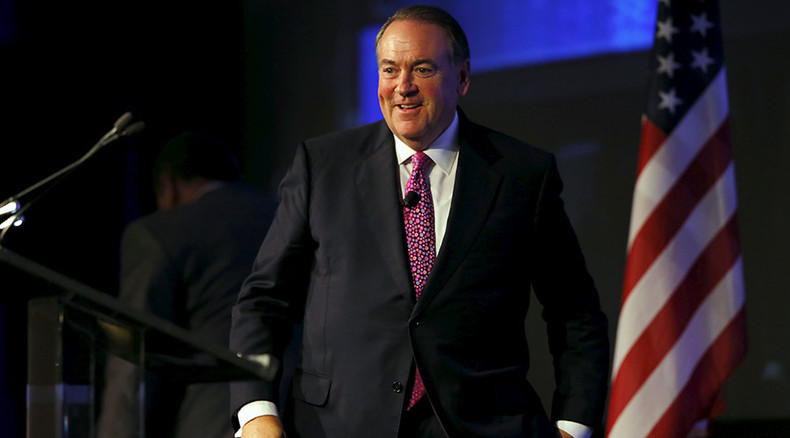 By endorsing an "idiotic" nuclear deal with Tehran, President Obama is essentially marching Israelis "to the door of the oven," said Republican presidential candidate Mike Huckabee, bringing Holocaust references to the chorus of Iran critics among US politicians.
"It is so naive that [Obama] would trust the Iranians," the Republican presidential candidate and former governor of Arkansas Mike Huckabee told Breitbart News on Saturday.
"By doing so, he will take the Israelis and march them to the door of the oven. This is the most idiotic thing, this Iran deal. It should be rejected by both Democrats and Republicans in Congress and by the American people."
"This president's foreign policy is the most feckless in American history," Huckabee added.
READ MORE: 'Republicans - lock, stock and barrel of Israeli lobby'
The "oven doors" fragment was a clear allusion to the gas chambers and ovens of Nazi deaths camps, in which, during the Holocaust, hundreds of thousands of Jews had been slaughtered and their bodies burnt.
Asked about these comments at a press conference in Ethiopia, Obama called them "ridiculous."
"The particular comments of Mr. Huckabee are, I think, part of just a general pattern that we've seen would be considered ridiculous if it weren't so sad," he said.
Obama didn't name names, but he also called out Senator Tom Cotton (R-Arkansas) for saying Secretary of State John Kerry acted like Pontius Pilate during negotiations with Iran, as well as Senator Ted Cruz (R-Texas) for saying the president is will become a leading sponsor of terrorism if the nuclear accord goes into effect.
READ MORE: Iran nuclear deal gets UN endorsement, paving way for sanctions relief
"Part of what, historically, has made America great is particularly when it comes to foreign policy, there's been a recognition that these issues are too serious, that issues of war and peace are of such grave concern and consequence that we don't play fast and loose that way," Obama said.
Huckabee's remark sparked a torrent of criticism both online and among the US politicians. The chairwoman of the Democratic National Committee, Debbie Wasserman Schultz, said that such rhetoric "has no place in American politics," and urged Huckabee to "apologize to the Jewish community and to the American people for this grossly irresponsible statement."
The agreement between Iran and six world powers was reached in Vienna earlier this month. The announcement of the deal's details triggered furious responses among senior Israeli diplomats, as well criticism from US Republican congressmen.
READ MORE: Israeli attack on Iran would be 'huge mistake with consequences' – Kerry
While the lawmakers criticizing the Obama administration's nuclear deal with Iran are looking for "some sort of unicorn arrangement involving Iran's complete capitulation," as Secretary of State John Kerry put it, the US Congress has a deadline to vote on the deal on September 17.