'Doesn't make any fiscal sense' to keep Gitmo open – DHS secretary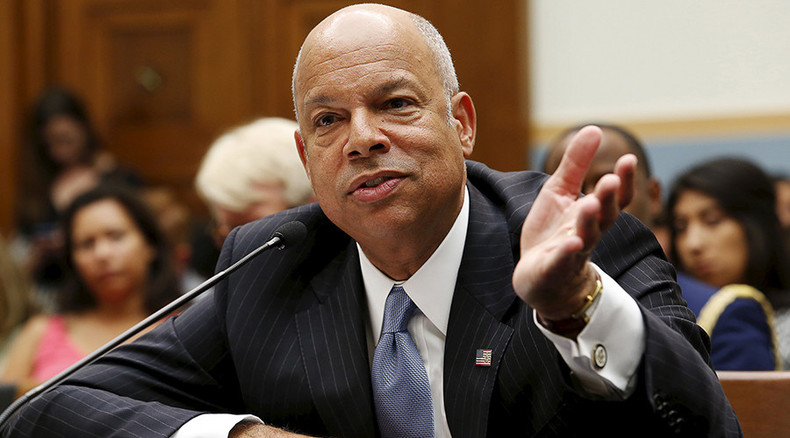 The Department of the Homeland Security secretary said it "doesn't make fiscal sense" to keep the Guantanamo Bay prison open. The facility for suspected terrorist detainees has costs US taxpayers more than $5 billion since it opened in 2002.
Secretary Jeh Johnson said that it costs nearly $900,000 per year to house each detainee at Guantanamo, constituting a total cost of more than $100 million per year. In comparison he said the costs for housing an inmate in a high-security federal prison is $80,000.
Johnson, speaking at a national security conference in Aspen, Colorado on Thursday, urged Congress to support the prison's closure, and back the Obama administration's plan to transfer the final 116 detainees to American prisons, reported the Los Angeles Times.
Half of the 116 detainees have been cleared for transfer. However, there are some tough cases, Such as Khalid Sheikh Mohammed, the alleged mastermind of 9/11.
READ MORE: Gitmo force-feeding videos must be released by end of August - judge
Johnson said those remaining at Guantanamo Bay "are probably the toughest cases."
"We ought to have a plan for transferring the remaining detainees to the US with appropriate protection consistent with law, and those that are being prosecuted and continue to be prosecuted, we should continue to do that," added Johnson.
More than 700 inmates have been held at Guantanamo Bay prison, at a cost of more than $5 billion, since it opened in 2002, in the wake of the 9/11 attacks during the George W. Bush administration. The facility has been mired in scandal throughout its history with allegations of torture, forced feeding and sexual abuse.
READ MORE: Obama to release half of Guantanamo inmates in push to close camp - reports
President Obama's pledged to shut down the facility but has continually been stymied by the Republican-dominated Congress, which outlawed bringing any detainees onto domestic soil. In June the Senate endorsed a bill that strengthens restrictions on the closure of the prison, a plan Obama threatened to veto.
His administration has slowly been sending Guantanamo prisoners back to their home countries or to third countries. In June a group of six Yemeni detainees were transferred to Oman.
​READ MORE: US transfers 6 Yemeni Guantanamo detainees to Oman
The White House is in the "final stages" of drafting a plan to close the prison and will submit it for review by lawmakers, spokesman Josh Earnest told reporters.
The administration has reiterated its intention to empty the jail by January 2017 – the end of Obama's presidency.