Interstate 10 closed 'completely & indefinitely' due to California bridge collapse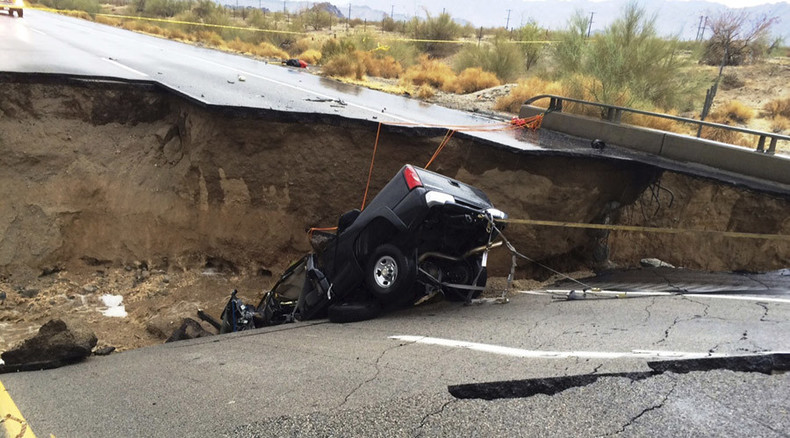 A 30-foot-by-50-foot (9-by-15-meter) section of Interstate 10 over a desert wash ‒ or dry riverbed ‒ in southeastern California west of Arizona has collapsed amid heavy rain, causing indefinite closure of a route used by 27,000 vehicles per day.
The eastbound section of the bridge over the normally dry Tex Wash in Desert Center, just east of the Coachella Valley and about 50 miles (80km) west of the Arizona border, collapsed on Sunday afternoon during the second day of record rainfall in Southern California. Though the westbound section of the interstate remained intact, it was also closed because it was compromised by flooding waters and will also need extensive repairs, the California Department of Transportation said.
"Interstate 10 is closed completely and indefinitely," said Terri Kasinga, spokeswoman for the California Department of Transportation, according to the Associated Press.
One driver crashed a pickup truck at the bridge and was rescued with help from fire crews and other motorists. The man left the scene with moderate injuries, the Riverside County Fire Department said. Several travelers were stranded in a typically dry area of the Colorado Desert.
The collapsed bridge, built in 1967, was labeled "functionally obsolete" in the 2014 National Bridge Inventory, yet there were no structural problems deemed worthy of repair at the time, the Desert Sun reported.
Traffic along I-10 is closed near Eagle Mountain Road. Eastbound traffic is closed at Chiriaco Summit, while westbound traffic is closed at Corn Springs.
"Caltrans Structural engineers will be on scene early Monday morning, July 20, to begin damage assessment at the location of the collapse along with other surrounding washes and structures along this section of I-10," the State Department of Transportation said in a press release. "Once the damage assessments are complete and the repairs are determined, more information will be released along with an estimate as to when the interstate may reopen."
With the closures expected to remain for the foreseeable future, motorists must now use the indirect routes of Interstates 8 and 40, as well as state highways, to travel between California and Arizona.
Southern California saw record rainfall over the weekend, as Tropical Storm Dolores delivered unseasonably warm, muggy conditions from the south. Storms resulted in numerous flash floods and power outages, according to AP.
Rain on Saturday broke records in at least 11 Southern California locations, including five areas that received the most rain ever recorded on any July date since records have been kept, according to the National Weather Service.
Downtown Los Angeles, for instance, received 0.36 of an inch of rain on Saturday, the wettest July day there since 1886.