'F*ck no, I'm not apologizing': Hip-hop mogul compares horse carriages to the Holocaust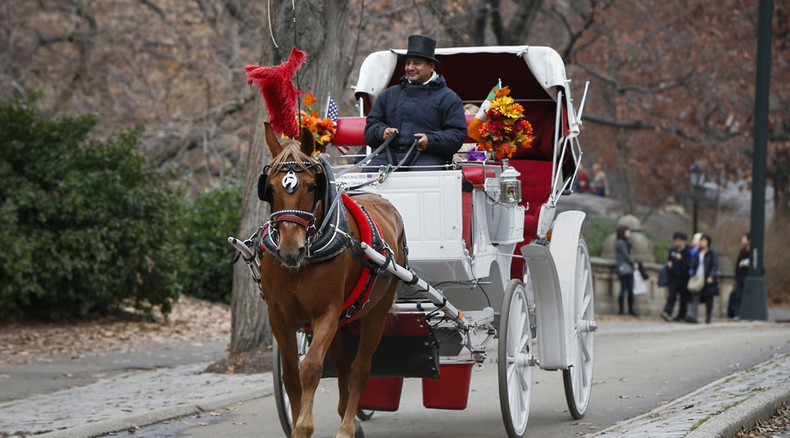 Hip-hop mogul and animal rights activist Russell Simmons is under fire after comparing horse-drawn carriages in New York City to slavery and the Holocaust.
Simmons said that proponents of what he perceives as animal abuse have the same inhumane mindset as those who "put people in ovens" at death camps in Nazi Germany.
"There were people for slavery, remember? Slavery was fine," Simmons said at an event Thursday organized by horse carriage opponents, according to The Wall Street Journal. "There were people who put people in ovens. There are all kinds of ethnic cleansing, people for it."
Simmons, a long-time animal rights activist, urged New York Mayor Bill de Blasio to follow through on his campaign promise to ban the Big Apple's iconic horse carriages.
"The horses matter," Simmons said, according to the Journal. "The promises you made matter. You got in office because we put you there. We put you in and we can take you out."
De Blasio said that he was unbothered by Simmons' remarks and that he feels "very clear about the mission" to ban horse-drawn carriages, but that some initiatives take longer to accomplish than others.
Simmons' inflammatory rhetoric offended New York Councilman David Greenfield, a Brooklyn Democrat who is the grandson of Holocaust victims. The councilman called on Simmons to apologize
"Quite frankly, I am one of many council members who is undecided on the horse-carriage ban," Greenfield said. "Mr. Simmons doesn't help his cause when he engages in outrageous hyperbole that minimizes the murder of much of my grandparents' family."
The rap mogul said that he had chosen his words carefully to raise awareness about animal suffering for those who don't understand the scale of animal abuse globally.
"F**k no, I'm not apologizing," Mr. Simmons told the Observer. "If the councilman is that upset, then I'm sorry, but my intention is not to offend the Jewish community but wake up the human family. We all agree the Holocaust is a horrific event."
"I do say the suffering of those animals is on par," he added. "It's a holocaust, the 100 billion animals that are birthed into suffering every year, made to be born every year."
He later tweeted apologetically, contending that he is a lifelong opponent of anti-Semitism.
Made it my lifelong mission to combat anti-semitism + would never want to offend those I love. Thanks @NYCgreenfield for talking w/ me today

— IG: @UncleRUSH (@UncleRUSH) July 17, 2015