Jade Helm military drills begin without media access, Twitter blows up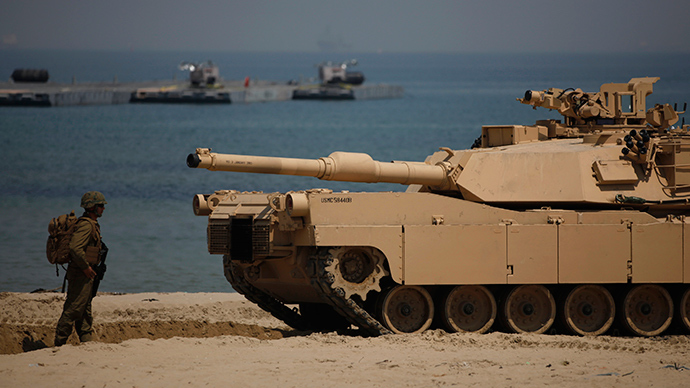 The controversial military drill spanning seven states known as Jade Helm 15 has officially begun, but with no media allowed to cover the exercises, people have taken to Twitter to speculate on and poke fun at the hysteria surrounding the war games.
READ MORE: Jade Helm 15: What you need to know about 7-state Pentagon super-drill
Expected to feature more than 1,200 troops from all US military branches, including some 200 Special Operations forces, the drills are scheduled to last until September 15. Little is officially known about the drills, but analysts have suggested they may be simulating scenarios in which American troops engage Islamic State militants in the Middle East as well as other adversaries.
The multi-state operation has drawn criticism and spawned conspiracy theories, however, ever since a map showcasing Texas and Utah as "hostile" territories. While declaring various lands "hostile" and "friendly" may be normal for a simulated war game, the map nevertheless triggered speculation in Texas that martial law might be just around the corner.
While Jade Helm has only just started, reports from outlets such as the New York Times, the Guardian, and local media stated that little, if anything, actually happened on the first day.
Still, small pockets of activity were noticed outside Camp Swift in Bastrop, Texas, where a convoy of National Guard troops was seen moving on Wednesday, according to the Houston Chronicle.
Day 1 of #JadeHelm15 and tanks already rolling through military bases like they own the place http://t.co/kivcPdnaWXpic.twitter.com/5CikxC2IFU

— John Boyd (@JohnnyNewsroom) July 15, 2015
Another large military truck was spotted near the camp, though it's unclear if its appearance was related to Jade Helm.
And here are some more photos of that truck outside Camp Swift, maybe #JadeHelm15 related: pic.twitter.com/NHYX8Ndq3p

— Bobby Blanchard (@bobbycblanchard) July 15, 2015
Otherwise, many residents were left with nothing to see.
"Where's Jade Helm?" Dan Whitaker, owner of Dans Guns and Stuff LLC said to KXAN News. "That's the big question that everybody is asking because nobody has seen anything."
Speaking to the New York Times, Jack Campbell of Christoval, Texas said he hadn't seen any signs of nefarious military activity just yet, but that he did buy extra ammunition for his guns as a precaution.
"Just in case," he told the paper. "People are just vigilant. Not vigilantes, but vigilant. They don't want to be caught off guard."
One resident told a Dallas Morning News reporter he didn't even know what Jade Helm was.
When asked if he's concerned about #JadeHelm15 one Bastrop resident says: "I haven't heard anything about it. What is it? Should I be?"

— Bobby Blanchard (@bobbycblanchard) July 15, 2015
Another said the government has "given us enough [information] to concern us but not enough for us to know what's actually going on … I don't want us to become a police state."
Across the US, the concern surrounding the military drills has been largely characterized as paranoia stemming from Texas residents who have traditionally had little trust in the federal government. When Jade Helm began Wednesday, many took to Twitter to make fun of the panic.
First reports begin filtering in from the front lines in Texas. #JadeHelm15pic.twitter.com/sJlUJrlN9G

— Dayton Ward (@daytonward) July 15, 2015
With no reporters embedded with the military units, some users simply began speculating wildly about could be happening. One even posted a screenshot from the movie "Starship Troopers" to depict the presumed chaos in Texas.
Not looking good in Texas. Can anyone confirm this? #JadeHelm15pic.twitter.com/7QedSTOeQ3

— Dayton Ward (@daytonward) July 15, 2015
Meanwhile, others used the occasion to lampoon various political and cultural issues.
Troops are herding us into WalMart tunnels, forcibly vaccinating children and coercing us into same-sex marriages. Please help. #JadeHelm15

— Wanda Cash (@cashUT) July 15, 2015
"Tell us your Texas secrets!" *struggles* "Never!" "We have ways of making you talk..." *drops peas in guacamole* #JadeHelm15

— Tim Devine (@TimDevine) July 15, 2015
Still, some have taken the lack of media access to Jade Helm seriously. While the military has allowed reporters to cover drills in the past, Army Special Operations Command spokesman Lt. Col. Mark Lastoria said they would not be permitted to follow troops this time. A select number of reporters may be allowed to observe parts of the operation later, but that has yet to be determined.
"All requests from the media for interviews and coverage of US Army Special Operations Command personnel, organizations and events are assessed for feasibility and granted when and where possible," Lastoria said in a statement released Wednesday to The Washington Post. "We are dedicated to communicating with the public, while balancing that against the application of operations security and other factors."
#JadeHelm15 Crew just stormed my house...... For the coffee and donuts I laid out for them! I'm a Lib and therefore immune from prosecution

— Coach JC (@hotakesonsports) July 15, 2015
Meanwhile, a group of hundreds of people has formed the "Counter Jade Helm" operation, during which volunteers will try to tail military participants, observe their actions, and report on their locations. While group surveillance leader Eric Johnston said he's not concerned about Texas falling under martial law, he told the Houston Chronicle that he wants to maintain checks on the government.
"If a team member sees two Humvees full of soldiers driving through town, they're going to follow them," Johnston said. "And they're going to radio back their ultimate location."
You can share this story on social media: