Mile-high club: Oregon permits in-state flyers to pack marijuana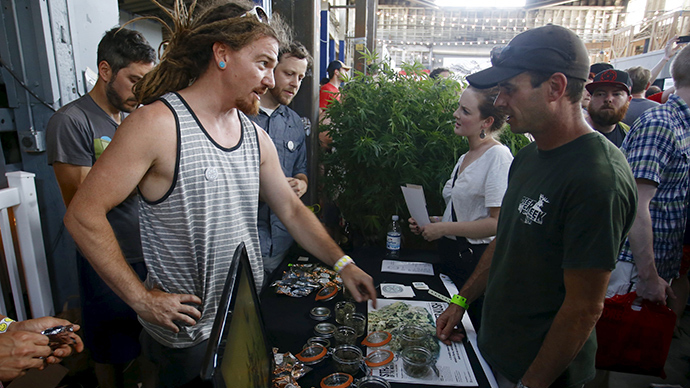 Flying the skies above Oregon with marijuana in your pocket has never been easier thanks to a new policy implemented by Portland International Airport. Just don't try to leave the state while packing weed.
Under the new rules, the airport will allow those flying within the state to bring the legally allowed quantity of pot through security and onboard their flights. Under Oregon's new marijuana laws, which legalized recreational use of the drug earlier this month, people can travel with marijuana as long as they don't take it beyond state lines – even if to another state where the drug is legal.
"For those flying to other cities in the state of Oregon, traveling with marijuana is allowable as long as that passenger meets all the other legal requirements of the state law," said Steve Johnson of the Port of Portland, which owns and runs the airport, to the Huffington Post.
READ MORE: Oregon legalizes marijuana: 5 things to know
Oregon law permits residents and visitors to possess up to half a pound of marijuana at home – but only one ounce in public. If Transportation Security Administration screeners find the drug on a traveler, airport police will check to ensure the amount doesn't exceed the legal limit. They will also make sure individuals are not leaving the state.
Once those points are verified, travelers will be free to go. If an individual is leaving the state, they will be told to dump the marijuana before proceeding. If the amount of pot surpasses the legal limit, however, individuals could be subject to fines or other penalties.
"TSA officers do not search for marijuana or other drugs; however, if an item is found that may violate federal law during security screening, TSA will refer the matter to law enforcement," reads the TSA brochure outlining banned items. "Whether or not marijuana is considered medical marijuana federal law provides no basis to treat medical marijuana differently than non-medical marijuana."
Marijuana is still banned at some airports in states where recreational pot is now legal. Denver International does not allow the drug, while Seattle-Tacoma International does as long as it's within legal limits. It is yet undecided if Alaska airports will permit it.
One local Oregon resident, Verena Douglas, told KPTV News that if marijuana can be brought onboard flights, then other products should be allowed as well.
"I'm not anti-marijuana but I'm pro-hairspray. I would really like to have some hairspray or some shampoo," she said. "What's shampoo going to do to somebody? Why can't I take my shampoo on a plane? I think it's a little lopsided. Silly, it's actually silly."