​What can homeless 'Piano Man' Donald Gould learn from 'Golden Voice' Ted Williams?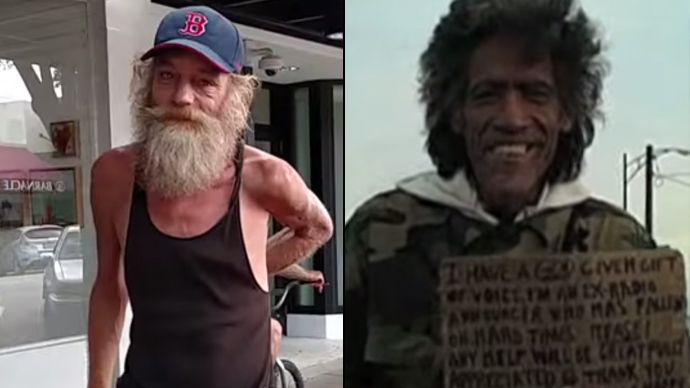 Donald Gould, a former marine, fell into homelessness only to become a YouTube celebrity after being filmed playing piano on the street. But "the Piano Man" and his helpers should pay heed to the story of another homeless-man-turned-star: Ted Williams.
Late last month, an emaciated and disheveled Gould was spotted playing a smooth version of Styx classic Come Sail Away on a piano placed on a sidewalk in Sarasota, Florida as part of a city project. An amateur video, filmed by empathetic passerby Aurore Henry, was uploaded several days later.
It went viral. The clip now has over 10 million views on YouTube. Gould's story emerged – a family man, who was once enrolled in Spring Arbor University in Michigan to become a music teacher, he spiraled downwards, particularly after his wife died of a morphine overdose in 1998 had his three-year-old son taken away by social services.
The world has showered the 51-year-old with gifts. His old university has offered him a full scholarship, his son Donny, who is now 18, reconnected with his father via a video conversation, and a fund set up to support him has already raised over $40,000.
Jacqueline Bevan, a member of a Christian organization that is supporting Donald, says he is "ecstatic" and has taken the "momentous" step of going into rehabilitation.
READ MORE: Homeless Florida 'piano man' crowdfund raises thousands in just 1 day (VIDEO)
So far, the story is eerily similar, both in their biographies and the public response to that of Ted Williams.
Now 57, Williams was honorably discharged from the US Army, before becoming an announcer on local radio, possessed with a polished, smooth voice beloved of US commercial stations.
In his mid-30s, after years of drinking heavily, he became homeless, and also had no contact with his nine children by different women, and like Gould, a string of minor criminal offenses to his name. Similarly, Williams was propelled to stardom by a video that not just showed off his talents, but subverted audience expectations.
In the short clip a car pulls up and asks a homeless man to "work for his dollar" and show off his "great radio voice." In response, Williams produces an intro so polished, it sounds like it came from a professional studio recording. On RT's YouTube channel alone, the clip has accumulated more than 30 million views.
Williams was similarly sent to rehab and, then offered a reported $375,000 deal to write an autobiography, as well as voice work gigs with consumer goods giant Kraft, and the Cleveland Cavaliers.
But fast forward four years, and Williams, who says he has been clean and sober since the summer of 2011, is otherwise back where he started.
"There were so many things that were just taken away from me. I own nothing, I have no furniture, I don't even own a car right now," said Williams in a catch-up interview with the Columbus Dispatch last year.
"A lot of the things I signed I shouldn't have signed, a lot of people in my life shouldn't have been involved. I wasn't focused, I trusted people too much," said Williams, who has changed management several times, and has moved through several increasingly downmarket apartments.
Although he married last year, Williams now earns money by giving corporate speeches and by relying on the generosity of congregations of churches, where he is invited – a fate not a million miles away from his previous occupation.
Last month, he announced that he is running for US president. Considering that he has no supporters, no staff and no financing, it appears more a cry for national attention than a serious attempt to conduct a social campaign.
Of course, there are no reasons why Gould should continue to emulate Williams, yet the story of the Golden Voice gives pause to those who revel in the feel good factor of rescuing a man off the streets. Trampolining off 15 minutes of YouTube fame is hard even for those who are ambitious and have worked for it for years. It is doubly difficult for those shackled by past failures, personal demons, and a head-spinning cast of apparent do-gooders and new friends keen to piggyback on the sympathy.