Taiwan gives $1 mil to Eisenhower Memorial campaign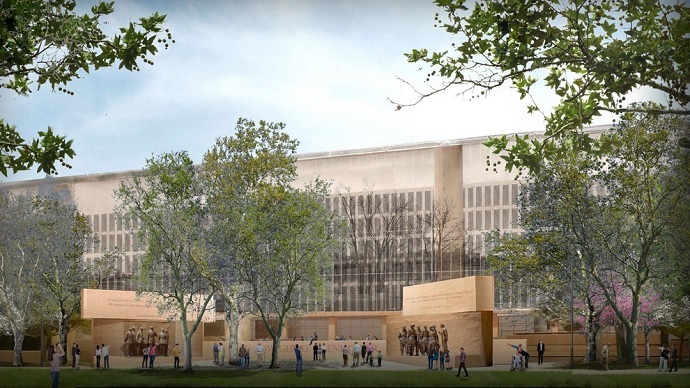 Taiwan has offered $1 million to aid an effort that seeks to erect a monument in Washington to honor former US President Dwight D. Eisenhower. The president helped end the First Taiwan Strait Crisis in the 1950s.
"The donation will be given in grateful recognition of President Eisenhower's 'staunch support for Taiwan's security and his strong commitment to the U.S.-[Republic of China] relationship,'" the Eisenhower Memorial Commission said in a news release.
The Taiwanese gift to the Eisenhower Memorial comes as organizers of the $142-million project are pushing for at least $20 million in private donations before they address Congress for additional funding support, according to AP.
As president in the 1950s, Eisenhower promised the Republic of China, based on the island of Taiwan, American defense from the People's Republic of China on the Asian mainland.
In 1955, Congress passed the Formosa Resolution, which would protect "territories in the West Pacific under the jurisdiction of the Republic of China" from a possible invasion by the People's Republic of China, Eisenhower vowed. The resolution led to the US and the People's Republic agreeing to a cessation of fighting in the Taiwan Straits, ending the First Taiwan Strait Crisis.
"This year, which marks the 70th anniversary of the conclusion of the Second World War, is a fitting occasion to commemorate the many accomplishments of President Dwight D. Eisenhower, who contributed so greatly to the final victory," Lyushun Shen, head of the Taipei Economic and Cultural Representative Office in the United States, wrote to US Senator Pat Roberts (R-Kansas), chairman of the Eisenhower Memorial Commission, on June 15.
Roberts said in a statement, "As the memorial to this great man moves toward the final federal approvals required to begin construction, we are appreciative that donors are coming forth and expressing their support."
Though the project has been in the works for 15 years, the memorial effort won final approval from two federal bodies for its design last week amid criticism from Eisenhower family members.
Congress has allocated $60 million for the project's design and planning. President Barack Obama's proposed 2016 budget added $68 million more for construction, though Congress has yet to ultimately approve any funding.
Eisenhower gained national fame and adoration as the Supreme Commander of Allied Forces in Europe during World War II.