Seeing green: Washington rakes in revenue from marijuana taxes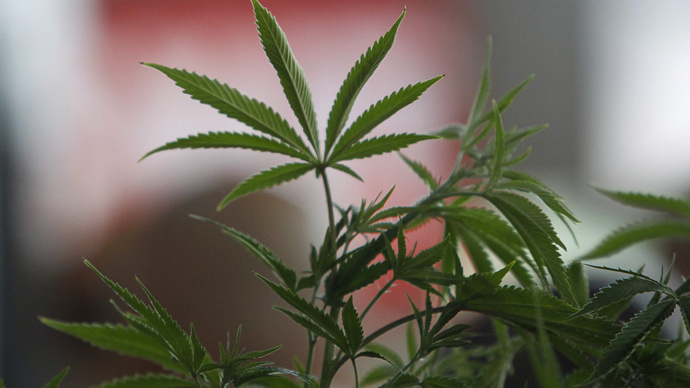 Sales of legalized marijuana have put over $65 million into Washington state's tax coffers over the past year, officials said. They are now lowering excise taxes and regulating medical cannabis to help the fledgling industry.
Residents of the northwestern US state voted in 2012 to legalize the possession and sale of limited amounts of marijuana. The law went into effect last July, allowing residents 21 and older to possess up to one ounce (28 grams) of marijuana. They can also purchase up to 16 ounces (454 grams) of marijuana-infused products in solid form, or up to 72 ounces (2 kg) in liquid form.
The state currently has about 160 shops open, with sales topping $1.4 million per day, according to figures released by the state's Liquor Control Board, soon to be renamed the Liquor and Cannabis Board.
So far, the revenue from marijuana sales has exceeded $260 million, with close to $70 million from excise, state and local taxes going into the state government's coffers – nearly double the original forecast of $36 million.
READ MORE: Legal marijuana sales begin in Washington, 2nd state to allow pot without prescription
Washington's data also shows that retailers have sold over 23,000 pounds (10.4 tons) of marijuana, out of the reported 31,000 pounds (14 tons) harvested in the state over the last year. However, many retailers report they are struggling to break even amid high taxes and falling prices.
The average price for marijuana dropped from $25.12 per gram in August 2014 to $11.52 per gram in June, according to statistics by the Liquor Control Board.
Governor Jay Inslee (D) signed a law in April bringing the medical marijuana market in line with the state's recreational industry. That measure goes into effect this month, along with a law consolidating a three-tier excise tax on marijuana into a single, 37-percent tax, AP reported.
The new rules come as Oregon is about to legalize medical marijuana sales. Washington officials shrugged off concerns that their southern neighbor's legalization of the drug could reduce sales in Washington stores along the Oregon border, which are currently doing brisk business.
"This isn't the first time people have gone to Oregon to buy something either because it's cheaper or because they don't apply sales tax," Liquor Control Board Director Rick Garza told AP. "We saw it for liquor; we see it for tobacco."
Washington Pot Legalization = violent crime down, murder down, burglary down, enforcement costs down, tax revenue up: http://t.co/koi6ob5F2A

— Jodie Emery (@JodieEmery) July 9, 2015
A recent report by the Drug Policy Institute indicates that cannabis-related offenses for adults 21 and older have decreased by 98 percent, while pot-related convictions were down 81 percent. Washington Poison Center and the Washington State Patrol described the increase in marijuana-related emergencies and impaired driving as "slight."
"At this point, I think we can say fairly safely the sky hasn't fallen," Mark Cooke, campaign policy director for the ACLU of Washington, told Jefferson Public Radio. "Some of the doomsday scenarios of huge increases in DUIs and youth marijuana use haven't yet appeared."
Colorado, where recreational sales have been legal since January 2014, collected $44 million in tax revenue from marijuana businesses in the first year. Oregon, Alaska and the District of Columbia have also legalized possession of small amounts of marijuana, though it is still illegal under federal law.
You can share this story on social media: