Imperial march: Stormtroopers escort 6,500 Star Wars fans to secret concert (PHOTOS, VIDEO)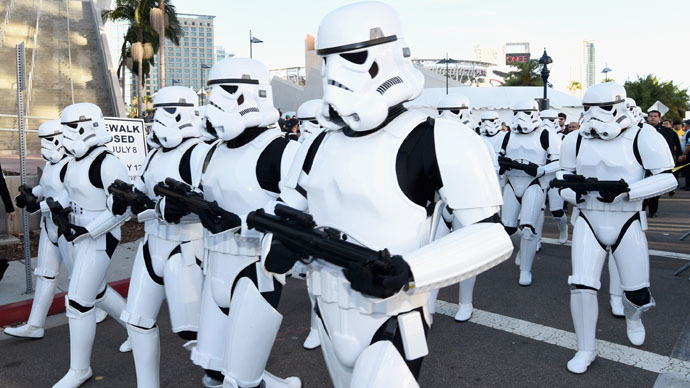 Dozens of actors dressed as stormtroopers entered the conference hall during the 'Star Wars: The Force Awakens' panel at Comic-Con in San-Diego on Friday to escort all 6,500 people inside to a secret concert.
The Imperial soldiers took the excited fans to a stage, which had been erected near the water at the Embarcadero Marina Park in the Port of San Diego.
The crowd was greeted by director J. J. Abrams and the cast of the 'Star Wars Episode VII: The Force Awakens' film which will hit cinemas in December.
No big deal. Just an army of #Stormtroopers. @HallHLine#StarWars#SDCCpic.twitter.com/dnHEdLZrtx

— Jennifer Hall (@JennHall88) July 11, 2015
The stars of the original Star Wars trilogy, who reappear in the new movie, Harrison Ford, Carrie Fisher and Mark Hamill also made an appearance.
Ford had to rely on a walking stick to move around the stage as the veteran is still recovering after a World War II-era training plane he had been piloting crashed this March.
Surprise #StarWars Concert with the San Diego Symphony Orchestra. This isn't real. #HallH#SDCC AND WE MARCH ONWARD pic.twitter.com/RuGqyqywdo

— Matthias #452 (@matthiasbsnyder) July 11, 2015
The concert began with a video address from composer John Williams, who created classic themes for Star Wars, Indian Jones and other movies.
"You fans have always been what's very special about 'Star Wars,'" Williams said.
Lightsabers Up! #StarWars #SDCC

A photo posted by Walt Disney Studios (@disneystudios) on Jul 10, 2015 at 8:24pm PDT
The San Diego Symphony orchestra then performed the main Star Wars theme, the Imperial and other compositions from the iconic franchise.
The fans reacted to their favorite tunes by raising thousands of colorful toy light sabers into the air.
Massive fireworks lit the sky above San Diego to complete the Star Wars event.
A video posted by Walt Disney Studios (@disneystudios) on Jul 10, 2015 at 9:02pm PDT
After acquiring Lucasfilm for $4.05 billion in 2012, Disney announced several further films in the Star Wars universe, which saw six movies released between 1977 and 2005.
'Star Wars Episode VII: The Force Awakens' will be followed by Episode VIII in 2017 and Episode XI in 2019, with several spin-off flicks as part of the "Star Wars Anthology" also planned.
You can share this story on social media: