DC Mayor Bowser signs emergency synthetic drug bill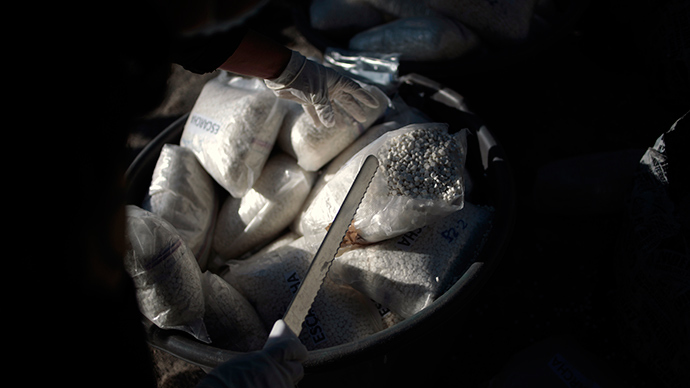 A spike in synthetic drug overdoses in Washington, DC has prompted the city to pass emergency legislation, which has now been signed into law by Mayor Muriel Bowser. It institutes harsh new penalties to businesses that sell the dangerous substances.
Synthetic drugs have been found for sale at liquor stores and gas stations, among other retail establishments. They are packaged and sold under brand names such as Scooby Snax, Bizarro and Spice, and are labeled to ostensibly be non-narcotic products such as incense or potpourri.
Bowser has supported taking action against the distribution of synthetic drugs for several months, and the DC Council approved her proposed emergency legislation 10 days ago.
READ MORE: Reports of synthetic marijuana poisoning up 229% in 2015
When asked why she waited until Friday to sign the bill to allow police to take action even when she herself deemed the legislation to an emergency measure, Bowser told WTTG, "It takes some time to be transmitted from the council to make sure it's going through – all I's and T's dotted."
DC Police Chief Cathy Lanier attended a neighborhood meeting on Thursday that addressed how police believe that synthetic drugs might be responsible for the recent uptick in violent crimes in the nation's capital.
The new law gives the police chief power to shut down businesses caught selling synthetic drugs for four days. First offenses also carry a fine of $10,000 – five times the previous penalty.
Businesses caught on a second offense have their business licenses revoked, shutting them down permanently.
"It's not the cost of doing business anymore," Lanier told the Washington Post. "You can't just sell it for cash and get a slap on the wrist, because a 96-hour shutdown is significant."
The District legalized cannabis – a much safer drug – earlier this year, joining four other states that have ended marijuana prohibition.