Florida cops admit running over retired veteran
Published time: 9 Jul, 2015 21:07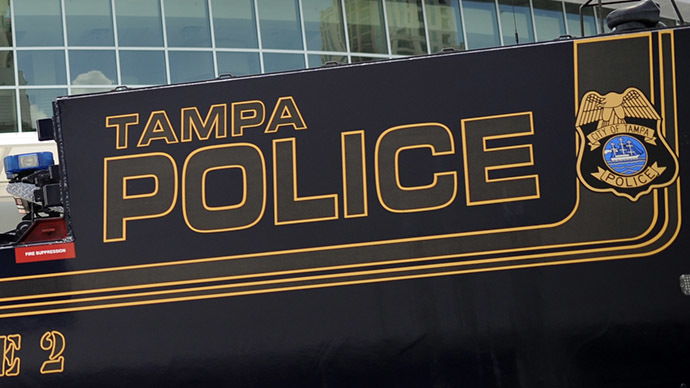 Police in Tampa, Florida admitted one of their detectives was responsible for a deadly hit-and-run that decapitated a 60-year-old Army veteran. Detectives investigating the case told the man's son that the officer was answering a robbery call.
William Dale McIntire was hit by an SUV in the evening of June 28. Witnesses described a vehicle looking like a GMC Yukon or a Chevrolet Tahoe speeding away from the scene without stopping to offer aid or call the authorities.
McIntire's son Bradley, 30, told the Tampa Bay Times that police matched the blood found on one of their vehicles to his father. Detectives looking into the incident quietly informed him of the finding earlier this week. Their colleague was on his way to answer a report of a robbery, and did not realize he had hit anyone, they explained.
Breaking: Tampa Police confirms TPD vehicle involved in Hit and Run investigation where Bill McIntyre was killed #wtsp

— Jennifer Titus (@jenntitus10) July 9, 2015
"I want to make sure I'm getting accurate information. I want to make sure nothing is being left out," McIntire said.
"If it was me, if I hit a cop and took off what would happen to me?" he added. "How different is the justice system going to work for the officer involved than it does for me?"
Initially the Tampa PD declined to comment on the investigation, saying only that they were "no longer looking for the vehicle involved." After the Tampa Bay Times published an interview with Bradley McIntire, they acknowledged that the officer involved was placed on paid administrative leave pending the outcome of the investigation.
"This is absolutely being handled differently than a traditional hit and run because an officers vehicle was involved," Tampa police spokesperson Andrea Davis said. "It's being handled very critically. The state attorney's office is already involved. The chief, all the way down, has been reviewing this case and had their hands involved in the investigation."
According to Bradley McIntire, his father had just left a bar near the intersection of East Flora and North 40th Street, when he was struck by the SUV and killed. Other bar patrons told Bradley that his father was walking upright and appeared to be fine.
Man Decapitated in Hit and Run, Police Quietly Tell Family Unmarked Police Vehicle Was Responsible http://t.co/6XPaC3gEzH

— Steven Nelson (@stevennelson10) July 9, 2015
McIntire described his father as a hard-working Army veteran who built fences for a living, and left behind a wife, three sons, a daughter and two grandchildren.
"I can't help but wonder if everything I'm being told is the complete truth," he said. "The cops are trying to tell me it was an honest mistake. I drive past the scene every day. When I see it, I see nothing but lights."