Wisconsin Capitol building evacuated over bomb threat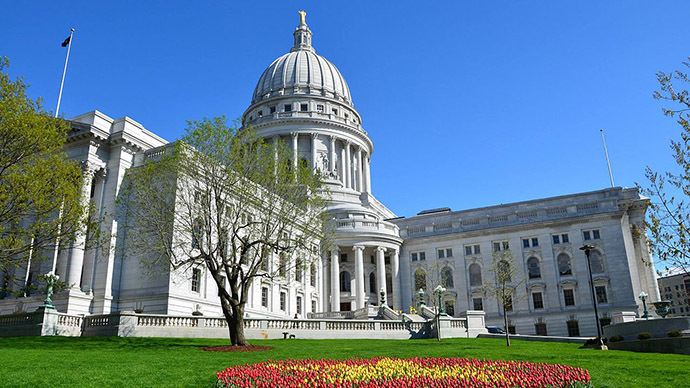 The Wisconsin State Capitol building was evacuated on Wednesday due to a credible bomb threat, but police ultimately cleared the threat.
Photographs and videos from local reporters showed Capitol police asking everyone in the building to leave and walk across the street.
A "credible bomb threat" on the building was confirmed to Fox6 News by Department of Administration Communications Director Cullen Werwie.
MT @gneumann_wkow People continue to evacuate Capitol after bomb threat. #Madison#WKOWpic.twitter.com/oZ5CXWWMHZ

— Ed Reams (@edreamsWKOW) July 8, 2015
Wisconsin state Rep. Michael Schraa also tweeted that a "credible threat to the building" was the reason for the evacuation.
Meanwhile, State Rep. Peter Barca confirmed to a Fox6 reporter that a threat was made on the facility, but not against a particular individual.
Bomb-sniffing dogs were also deployed to comb through the building , added Speaker of the Wisconsin State Assembly Robin Vos to WKOW.
In a statement after the site was cleared, Capitol police said,"Due to an ongoing investigation we will have no additional comment at this time."
Being evacuated from the Capitol as we speak because of a credible threat to the building

— Rep Michael Schraa (@repschraa) July 8, 2015
At the time of the evacuation, lawmakers were in the midst of debating a state controversial budget.
A concert was scheduled to be held near the building this evening, but people at that location were evacuated as well. The concert is expected to proceed now that the threat has been cleared.
We are across the street from the Capitol in #Madison - everyone told to evacuate due to threat. #WIbudget ... https://t.co/kOMntQqUVx

— Andrew LaCombe (@andrewlacombe) July 8, 2015