Justice Dept. could strike deal with Edward Snowden upon US return - Eric Holder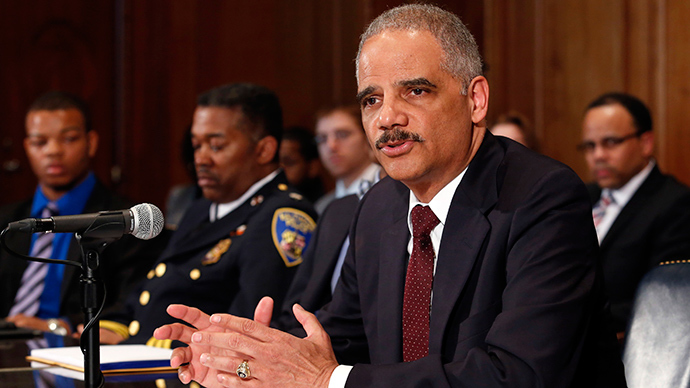 The former head of the Justice Department said the "possibility exists" for a deal to allow whistleblower Edward Snowden to return to the US. Holder has admitted that Snowden's "actions spurred a necessary debate" on surveillance of US citizens.
"I certainly think there could be a basis for a resolution that everybody could ultimately be satisfied with. I think the possibility exists," former US Attorney General Eric Holder told Yahoo News in an interview.
"We are in a different place as a result of the Snowden disclosures."
Holder said Snowden's "actions spurred a necessary debate" which itself prompted President Obama and Congress to change policies regarding the bulk collection of the phone records of American citizens.
He declined to speak openly about what a potential deal might consist of and said it wouldn't be "appropriate" for him to discuss. Holder has returned to private practice, now working at the law firm of Covington & Burling, since leaving the Justice Department in April.
It is also uncertain whether Holder's signaling that a deal could be cut with the former NSA contractor indicates a shift in the Obama administration's attitude towards the whistleblower.
READ MORE: Snowden, Assange could get 'symbolic' asylum offers – French justice minister
Melanie Newman, chief spokeswoman for Attorney General Loretta Lynch, Holder's successor, immediately shot down the idea that the Justice Department was softening its stance on Snowden.
"This is an ongoing case so I am not going to get into specific details but I can say our position regarding bringing Edward Snowden back to the United States to face charges has not changed," she said in an email to Yahoo News.
When serving as attorney general, Holder filed a federal criminal complaint against Snowden in June 2013, charging him with three felony violations of the Espionage Act for turning over tens of thousands of government documents to journalists. Each count can carry a penalty of up to ten years in prison, according to Politico.
In a previous interview with MSNBC, Holder had indicated the US would be willing to "engage in conversation" with Snowden and his lawyers, if Snowden was willing to return to the US to face charges. He ruled out any granting of clemency.
Snowden's lawyer, Ben Wizner, told Yahoo that for the former attorney general to recognize Snowden's action "led to meaningful changes is welcome" and "significant."
READ MORE: PACE calls on US to stop persecuting Snowden
"I don't think we've seen this kind of respect from anybody at a Cabinet level before," said Wizner, also the director of the American Civil Liberties Union's speech, privacy and technology project.
Yahoo News said an intelligence official had previously floated the idea of Snowden's return on the condition that the whistleblower pleaded guilty to one felony count and received a prison sentence of three to five years. In exchange, he would cooperate fully with the government.
Wizner said any felony plea deal that resulted in prison time would be unacceptable to his client.
"Our position is he should not be reporting to prison as a felon and losing his civil rights as a result of his act of conscience," he said.
However, hardliners in the intelligence community remain entrenched about a conviction.
"I'm quite stunned that we would be considering any return of Snowden to this country other than to meet a jury of his peers, period," Michael Hayden, former director of both the NSA and CIA under President George W. Bush, told Yahoo News when asked about Holder's comments.
What Snowden did "was the greatest hemorrhaging of legitimate American secrets in the history of the republic, no question about it," Hayden added.
You can share this story on social media: