Chiraq: 10 dead, 55 wounded in holiday weekend shootings across Chicago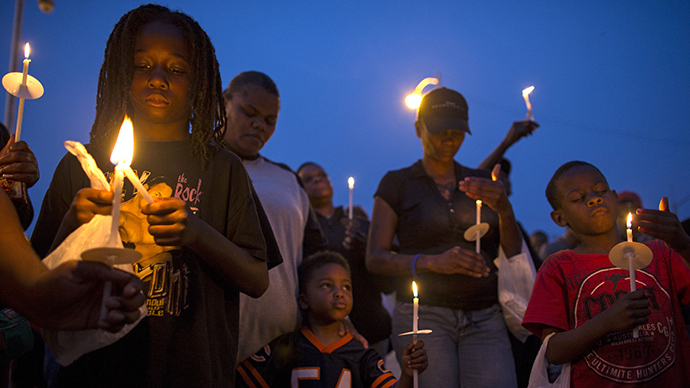 Chicago police are calling for increased gun controls after another deadly Fourth of July weekend saw 65 people shot, 10 of them fatally. A 7-year-old boy was among the dead. At one point, police said they were confiscating an illegal firearm every hour.
Thirty people were shot across Chicago from dusk on Saturday until dawn on Sunday, after Independence Day celebrations. One of them was Amari Brown, seven, killed in his front yard late Saturday night in the Humboldt Park neighborhood.
July 4th Weekend Shot & Killed: 10 Shot & Wounded: 55 Total Shot: 65 Total Homicides: 10 #Chiraq

— Chiraq Homicide (@ChiraqHomicide) July 6, 2015
"It's scary to think you can't even be outside in the front yard because you fear for your safety. It's really ugly right now," a neighbor who wished to remain anonymous told DNA Info.
Chicago police say Amari was killed by a "bullet meant for his father," Antonio, described as a ranking member of the Four Corner Hustlers street gang. Antonio Brown had been arrested 45 times, most recently in April on charges of gun possession.
"I've never seen anything like this," said Chicago Police Superintendent Garry McCarthy at a news conference on Sunday, holding up Brown's 22-page arrest record.
Last year, 82 people were shot over the holiday weekend, and 16 of them died. Five of the wounded were shot by the police, compared to none this year. In an effort to improve security, McCarthy said, the Chicago PD had a 30 percent increase in patrols, with officers working 12-hour shifts.
The superintendent blamed the ongoing violence on what he said were Chicago's "lax gun laws."
#Chicago shootings: Police are the only group benefiting, as they use it to "prove" they're needed to disarm and occupy the community...

— Hargrove Jones (@hargrovejones) July 6, 2015
"Gun possessors are potential murderers," he said. "If they don't learn a lesson for carrying the gun, they keep carrying the gun. They get into an argument, now instead of fighting, they shoot."
According to McCarthy, the Chicago PD was seizing "about one illegal gun per hour" over the holiday weekend. Some of the weapons were displayed at the press conference.
"We need some help here, folks," McCarthy said. "We have to fix this broken system."
Supt McCarthy says cops this wknd have seized "about one illegal gun per hour." pic.twitter.com/Ucu2yzFOLG

— Eric Horng (@EricHorngABC7) July 5, 2015
Rampant gun violence prompted some rap artists to begin using the term "Chiraq" – a portmanteau of "Chicago" and "Iraq" – sometime around 2012.
When director Spike Lee announced "Chiraq" would be the title of his new film dealing with gun violence in the neighborhood of Englewood, the recently re-elected mayor Rahm Emanuel said he was "not happy" with Lee's use of the term.
"While I don't support the title and I don't like the working title, the topic is a conversation that has been ignored for too long and needs to be discussed," Emanuel said after meeting with Lee in April.
Chicago politicians are giving @SpikeLee grief about #Chiraq, while 7 year old Amari Brown is killed watching Chicago fireworks. #wrongFocus

— Corey Buckner (@CoreyBuckner) July 5, 2015
Emanuel was first elected mayor in 2011, after serving as the White House Chief of Staff for President Barack Obama, another notable Chicago resident.
According to local media, 222 people have been killed in Chicago since the beginning of 2015.
You can share this story on social media: