​Berniemania: Largest crowd of 2016 campaign shows up for Bernie Sanders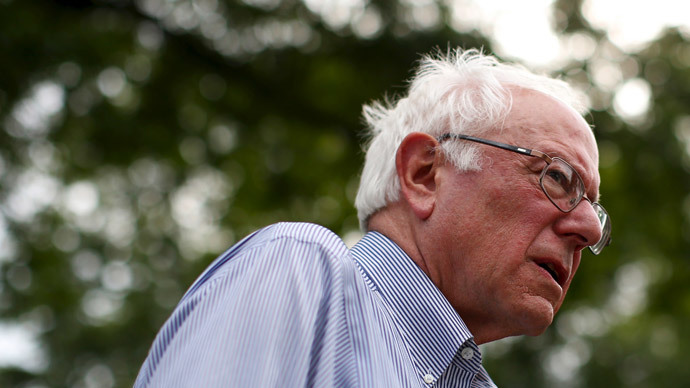 Democratic presidential candidate Bernie Sanders may be an underdog, but a massive crowd of 10,000 people gathered in Madison, Wisconsin to hear him speak – the largest crowd drawn by any 2016 presidential candidate.
Sanders, an independent US senator from Vermont who has described himself as a democratic socialist, has been dismissed as a low-tier candidate ever since first announcing his campaign for the presidency. However, while he may lack the high profile of former Secretary of State Hillary Clinton, he is showing himself to be quite capable of energizing liberals.
This ability has helped him attract more people than other candidate so far, Democrat or Republican.
Tonight we made a little bit of history as 10,000 came out to support our progressive agenda in Madison, Wisconsin.

A photo posted by Bernie Sanders (@berniesanders) on Jul 1, 2015 at 6:31pm PDT
"Tonight we have made a little bit of history," Sanders said at the Veterans Memorial Coliseum in Madison. "You may know that some 25 candidates are running for president of the United States, but tonight we have more people at a meeting for a candidate for president of the United States than any other candidate has."
Clinton herself attracted some 5,000 people at her campaign kickoff in New York City. And while Senator Ted Cruz (R-Texas) spoke to an audience of 11,000 at Liberty University, attendance was mandated by the school.
In Madison, the 73-year-old Sanders received an energized and raucous reception when he took the stage, where he spoke about combating income inequality, climate change, single-payer healthcare and more.
Citing the need for a vast, sustained grassroots movement to spark change, Sanders called for a "political revolution in America" that challenges "the greed of Wall Street and corporate America," as well as "big-money interests."
"We believe that the time has come when people in Wisconsin, Vermont and all over this country create a political movement which says to the billionaire class: You can't have it all."
The largest crowd of any candidate in either party, Bernie Sanders declares. pic.twitter.com/1uFeR1Cs42

— Alex Seitz-Wald (@aseitzwald) July 2, 2015
A common theme for Sanders has been that the wealthy class and corporations have wrested the political system away from the people, something he continued to passionately advocate against on Wednesday.
"This great country and our government belong to all of the people and not just the handful of very wealthy people," he said.
Meanwhile, on Thursday, the Sanders campaign announced that he has raised $15 million in two months from 250,000 donors. That may not seem like much compared to Clinton's $45 million haul, but it's a significant amount of dough – former Massachusetts Governor Mitt Romney raised about $18 million during the first quarter of the 2012 race, according to NBC's Mark Murray.
Another view of the crowd for @BernieSanders. pic.twitter.com/e0Oyf63pzs

— Alex Seitz-Wald (@aseitzwald) July 2, 2015
Sanders' low profile and Clinton's seeming inevitability meant the Vermont senator's campaign didn't immediately catch fire, but he has been steadily gaining ground in the polls. He garnered 33 percent support of those surveyed in a new poll in Iowa, up from 15 percent in May. Clinton received 52 percent.
"I know we are going to get outspent," Sanders said. "But we are going to win this election."
"At the end of the day, they may have the money, but we have the people. And when the people stand together, we can do anything."