'Shots fired; One down': Police release video of fatal shooting of Texas man
Published time: 3 Jul, 2015 01:44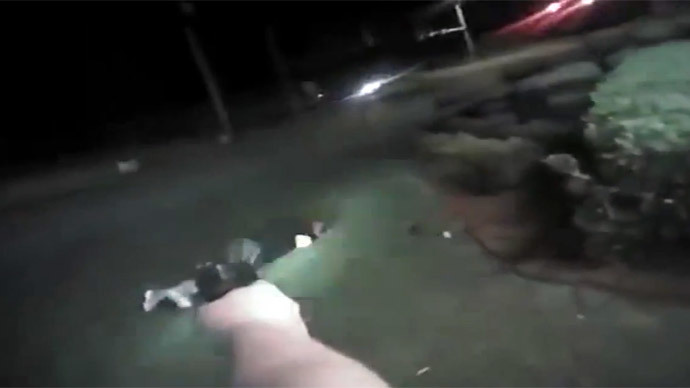 Newly released Texas police body camera footage shows the moments before robbery suspect James Bushey pulled a gun on police and was fatally shot on May 31. Bushey's gun was later discovered to be a pellet gun resembling a 9 mm handgun.
The body cam video opens with police encountering Bushey, 47, in a restroom of an Applebee's restaurant on the evening of May 31, as part of their investigation into an alleged theft of alcohol from a local Walmart in Palestine, Texas.
"What do you need?" Bushey asks, as reported by the Palestine Herald-Press.
WARNING: Video contains acts of violence that may be disturbing to some viewers:
"You're a suspect in reference to a theft case. I need you to step out please," Sergeant Gabriel Green says. "Don't act dumb for me. Come on and step out. Okay? You're on video."
As they escorted him out, Officer Kaylynn Griffin's video shows Green knocking some cutlery sitting on a table out of Bushey's reach as they passed by.
Outside, the video switches to the view from the Sergeant Green's body cam, showing Officer Griffin asking Bushey if he has ID on him.
READ MORE: Quarter of US cop shooting victims were in mental distress – report
Moments later, Bushey can be seen drawing what appears to be a handgun on Griffin. The officer tries to wrest the weapon away from Bushey, but as he breaks free Sergeant Green immediately opens fire with a volley of at least a dozen shots, killing the suspect. Griffin is heard calling for help saying, "Shots fired, shots fired, one down."
Officer Griffin and Sergeant Green were placed on paid administrative leave following the shooting.
A grand jury investigation in late June determined the use of deadly force was justified and decided not to pursue charges against the officers. Both have since returned to duty.
"It's very unfortunate that the police officers were put in this position," Palestine, Texas Police Captain James Muniz said Tuesday, according to Palestine Texas Herald, when the video was released.
"They felt that they had no choice but to defend themselves at that time. [It's important] to have a real personal look at exactly what an officer sees in real time and how quick things happen."