Somalia is home to two secret US drone bases – report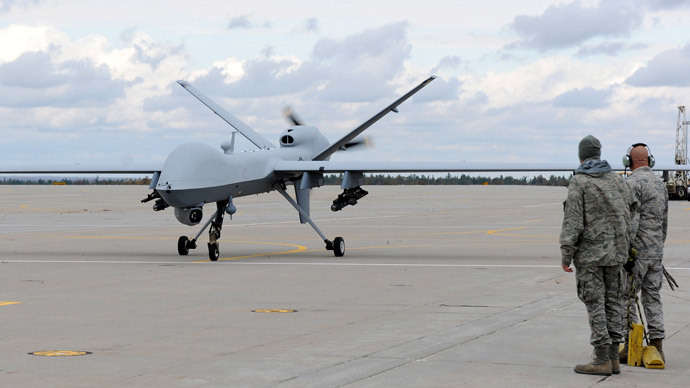 Up to 120 US military personnel are operating out of two secret drone bases in Somalia, carrying out attacks on Al-Shabab militants and working with African Union peacekeepers, a new report has revealed.
Somali officials have confirmed a secretive US presence in the southern port city of Kismayo, according to Foreign Policy correspondent Ty McCormick. Another base, at the airfield of Baledogle near Mogadishu, is being used for both drone strikes and for contractors training Somali security forces.
FP's @TyMcCormick visits Kismayo, Somalia, and finds U.S. drone operators at secret American base http://t.co/d3ohGNtnus

— columlynch (@columlynch) July 2, 2015
Regional administration official Abdighani Abdi Jama told McCormick that as many as 40 US personnel conduct "intelligence" and "counterterrorism" operations and operate drones from their base at Kismayo airport, about 300 miles south of Mogadishu. Somali officials and sources within the African Union Mission in Somalia (AMISOM) also indicated a similar presence at Baledogle, in the Lower Shebelle region.
Washington has not officially admitted to operating drones from Somali territory, with drone flights said to originate from US bases in the neighboring Djibouti, and outposts in Kenya and Ethiopia. The US also has an outpost in the Seychelles, an archipelago some 800 miles off the Somali coast.
US Africa Command (AFRICOM) spokesman Chuck Prichard declined to comment on the size or location of their units, saying only that the "small number" of US Special Forces deployed the region was "not tasked with directly engaging enemy forces."
READ MORE: Somali terror suspect sought by FBI apprehended in Africa
"The exact nature of this support, weapons systems or number of personnel involved in these operations cannot be disclosed in order to protect the integrity of these operations and the safety of units in the region," Prichard wrote in an email to Foreign Policy.
US forces have conducted drone and helicopter attacks against Al-Shabab since 2007. An American drone killed the group's leader Ahmed Abdi Godane in 2014.
On more than one occasion, US special operations teams have staged their attacks from bases belonging to Kenyan and Ugandan forces within AMISOM says McCormick, citing anonymous sources from within the peacekeeping mission.
"They come to our forward operating bases and sometimes do joint operations with us," said one Ugandan source. "We often don't get much notice," he added. "They don't trust us, and we don't trust them."
READ MORE: Revealed: US operating secretly in Somalia since 2007
According to the Bureau of Investigative Journalists, up to 105 people may have been killed in US drone strikes in Somalia, of which there have been no more than 13 since 2007. Most of them were not civilians. Other covert operations killed between 40 and 141 people, with civilians making seven to 47 of them.
Since 2007, Washington has spent almost $1 billion on funding AMISOM, $500 million directly and another $455 million through the UN. That has reportedly helped the African Union troops turn the tide against Al-Shabab, reducing their control from 60 percent of Somalian territory in 2010 to reportedly only 6 percent today.
According to Bronwyn Bruton, from the Atlantic Council's Africa Center, Al-Shabab has simply changed the way it operates and remains a dangerous force to be reckoned with. "They are not actually confronting AMISOM head-on anymore, which means that their forces and weapons are mostly intact," she told McCormick. "They have shifted from a conventional force to a pure terrorist one that is increasingly focusing its attention on attacks outside of Somalia, in Kenya, and elsewhere in the region."
You can share this story on social media: