5,000 evacuated in Tennessee after train crash releases toxic fumes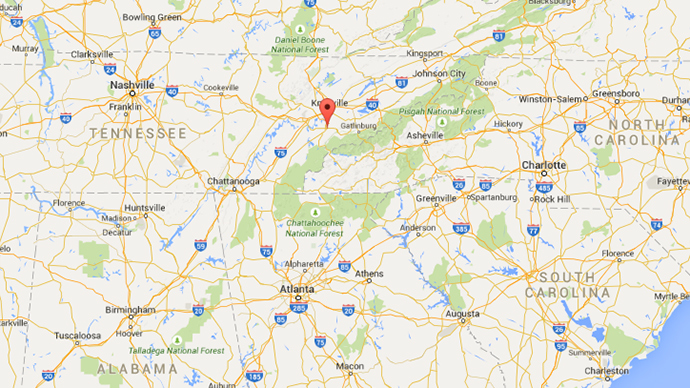 More than 5,000 people in eastern Tennessee have been evacuated after a freight train carrying "highly flammable and toxic gas" derailed and caught fire on Thursday morning.
Seven firefighters have been taken to hospital after breathing in fumes from the blaze, while a 1-mile evacuation zone has been put in place around where the train came off the tracks.
"They are receiving treatment in the emergency room at Blount Memorial Hospital. At the time, some of them were pretty close to the scene of the derailment, while others were knocking on doors and evacuating residents," said a Blount County Sheriff's spokeswoman, Marian O'Briant who was speaking to NBC News.
Pics coming in of train derailment carrying toxic chemicals in Maryville Tn. Evacuations still underway. pic.twitter.com/oXShFqs0gC

— *Lynne Russell News* (@lynnerussnews1) July 2, 2015
Officials have put the number evacuated at 5,000; however, other sources are saying the figure is nearer to 1,200.
"Evacuation time could last anywhere from 24 to 48 hours, but we'll get word out as soon as we can," O'Briant added.
At least 5,000 people evacuated to Heritage HS after train crash in Blount Co. pic.twitter.com/3ADDgPWAAt

— Melissa Lee (@WVLTMelissa) July 2, 2015
The train was traveling from Cincinnati to Waycross, Georgia, which is about 80 miles (129km) northeast of Jacksonville.
However, it never reached its final destination after it left the tracks near Maryville, 17 miles (27km) south of Knoxville. Two shelters have been opened in the local area to help those who have temporarily been displaced, a local official said.
Evacuees are being sent to the Foothills Mall in Maryville. @wbirpic.twitter.com/bcOB82wxdl

— Brittany Bade (@BrittanyWBIR) July 2, 2015
The train includes two locomotives, 45 loaded rail cars carrying mixed freight and 12 empty rail cars, said Kristin Seay, from CSX Corporate Communications, which was operating the train.
The train was carrying liquefied petroleum gas and acrylonitrile – a product used in the manufacture of plastics. The United States Environment Protection Agency says that if the substance is inhaled in large quantities, it can cause membrane irritation, headaches and nausea.
O'Briant added that three cars were currently on fire, but it is unknown whether the blaze is under control. The emergency services have not reported any serious injuries.