Historic stadium engulfed in flames in Oregon (VIDEO)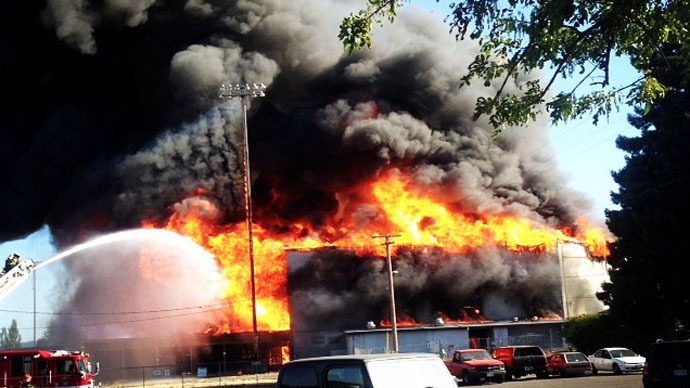 Historic Civic Stadium in Eugene, Oregon has been engulfed in flames.
Parts of the stadium grandstands have been burnt away and a giant plume of smoke is visible throughout the city, according to local media reports.
Civic stadium is burning #Eugene #Oregon #fire #savecivic #civicstadium
Local police say that nearby structures are also at risk due to the blaze and have suggested that everyone within a two-block radius evacuate the area, the Register-Guard reported.
Dozens of firefighters have responded to the scene. The cause of the blaze is unknown.
So far, no injuries have been reported.
Sad day for the community. Historic Civic Stadium is on fire, @chelseagorrow reports: http://t.co/nmUIs9UYmh#Eugenepic.twitter.com/qPaFlyQqP0

— Christian Hill (@RGchill) June 30, 2015
People have gathered to watch the fire and take videos outside the stadium.
Civic Stadium was built in 1938 as part of a venture between the local school district, the local Chamber of Commerce and a federal works program. Just this past April, it was sold to a nonprofit with plans for renovations. The stadium was to be repurposed as a soccer field and a site for children's activities, the Register-Guard reported.
Holy Cow!!! Say goodbye to Civic Stadium. Thanks @lieuranc for the call. #CivicStadium #Eugene #Fire #Live #LifeAsAJStudent #Oregon
Prior to the sale, the stadium had served as the home of a Major League Baseball minor league team called the Eugene Emeralds from 1969 to 2009. It was listed as one of the ten oldest active minor league baseball stadiums in the US and included in the National Register of Historic Places in 2008.