It's official: New York bans fracking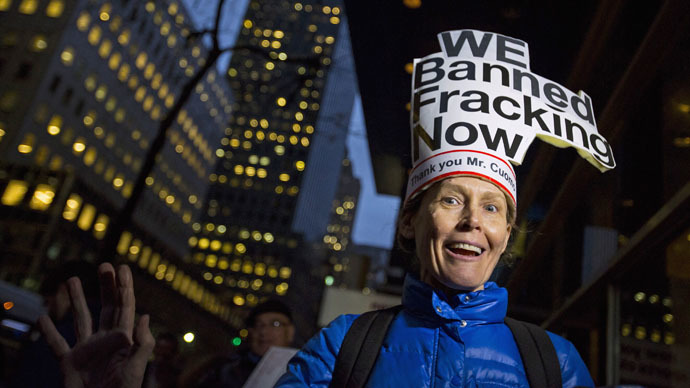 New York State officially banned fracking for natural gas by issuing its final environmental impact statement, concluding a seven-year review. The environmental agency said fracking posed risks to land, water, natural resources and public health.
The release of the environmental impact statement on Monday concluded seven years of analysis by the state Department of Environmental Conservation (DEC). It first issued a moratorium against fracking in 2008.
The agency received a staggering 260,000 comments over various drafts of its environment impact statement. In 2009, more than 13,000 public comments were made on its draft. A revised draft issued in 2011, which involved four public hearings around the state, received another 67,000 comments, and the second draft, with regulations over permit conditions, received an additional 180,000 comments.
"After years of exhaustive research and examination of the science and facts, prohibiting high-volume hydraulic fracturing is the only reasonable alternative," said DEC Commissioner Joe Martens in a statement.
READ MORE: EPA finds no 'widespread, systemic' danger to water from fracking
"High-volume hydraulic fracturing poses significant adverse impacts to land, air, water, natural resources and potential significant public health impacts that cannot be adequately mitigated. This decision is consistent with DEC's mission to conserve, improve and protect our state's natural resources, and to enhance the health, safety and welfare of the people of the state."
New York has now joined Vermont, which has prohibited fracking since 2012. In the spring, Maryland approved a moratorium until 2017.
Oil and gas groups have threatened to sue the New York, but the attorneys at Earthjustice, a nonprofit environmental law organization, are confident the DEC's review "will withstand legal challenge."
"We salute Governor Andrew Cuomo's refusal to bow to industry pressure. He had the courage to do what no other state or federal leader has had the courage to do: let the available scientific evidence dictate whether fracking should proceed in New York," Deborah Goldberg, Earthjustice Managing Attorney, told EcoWatch.
The Marcellus Shale – a rock formation that sits under New York, Ohio, Pennsylvania and West Virginia – contains large natural gas deposits of interest to oil and gas companies. The method for releasing the gas, involves drilling vertically and then horizontally blasting the rock apart to release the gas using chemically treated water at high pressure.
The fracking method has yielded tens of billions of dollars of profits for oil and gas companies, and turned the US into an energy supplier rather than an importer. However, the methods used have led to national protests and complaints over air and water pollution, increased earthquakes, property devaluation and health impacts.
READ MORE: Texas gov Abbott sued feds at will before squashing local efforts to ban fracking
Dozens of towns and cities in New York had also enacted bans against fracking within city limits, a development which had implications for waste disposal and the increased costs of maintenance for rural roads used for increased trucking.
Governor Cuomo announced on December 18, 2014 that the state would ban fracking, which led to a quickly gathered celebration outside his New York City offices in Midtown.
The former New York City Commissioner for Environmental Protection, Al Appleton, told RT at the time that the interesting thing about the environmental movement was that it involved not just a lot of people power, but an enormous amount of technical and intellectual power as well.
"Fourteen-thousand comments were made on the Environmental Impact Statement (EIS). Many, if not most of those comments, were complicated technical comments about the geology of the shale, the character of the chemicals, the movement of groundwater," he said, adding that there was an overwhelming body of material.
"When the Commissioner stepped up to the plate, he was facing dozens of groups that had done detailed health analysis so it was not just, 'We don't like this!' but, 'We have very good reasons for not liking this.'"
The governors in the major oil and gas producing states of Texas and Oklahoma, meanwhile, signed legislation in the spring barring local municipalities from local prohibitions against fracking. In Texas, the law overturned a vote passed by residents in the city of Denton to ban the operation in the city limits.
You can share this story on social media: