GOP candidates embrace mega-donor's cause, seek ban on online gambling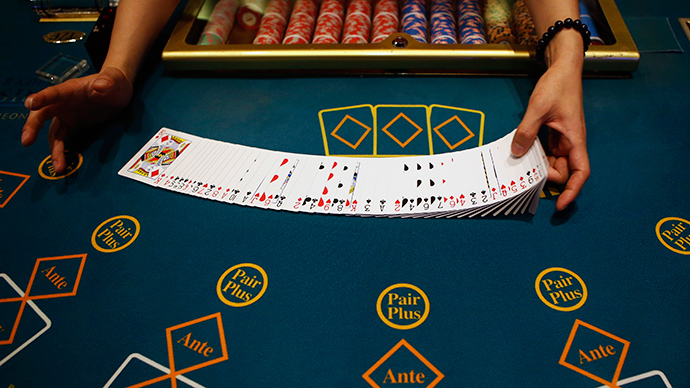 Republican presidential hopefuls Lindsey Graham and Marco Rubio are sponsoring legislation that would outlaw casino-style gambling online. The US senators' bill aligns them with top political donor Sheldon Adelson, a casino owner against online gambling.
The Restoration of America's Wire Act would reverse the 2011 decision by the US Justice Department to legalize in-state, casino-style gambling done online, as long as it steered clear of wagers on sporting events. The legislation would bar state-based lottery sales online, but not in-person sales. The US House is considering a similar version of the bill.
Delaware, Nevada and New Jersey are the only states that have legalized online gambling.
Weeks after Sheldon & Miriam Adelson give three-quarters of a mil to the GOP, Senators drop online gambling ban ($): http://t.co/7dfjCaencu

— Eliza Newlin Carney (@ElizaRules) June 26, 2015
Graham, from South Carolina, introduced the bill, with Florida's Rubio as the cosponsor. Announcing their proposal, the two senators took aim at President Barack Obama's administration.
"Now, because of this decision by the Obama Administration, virtually any cell phone or computer in South Carolina could become a video poker machine," Graham said. "A major rewrite of a long-standing federal law like this should be made by the people's elected representatives in Congress and signed into law by the president, not done administratively."
Graham introduced the bill in the previous Congress, but it failed to gain momentum.
Rubio claimed that the "the Obama-Holder Justice Department completely bypassed Congress and unilaterally decided to re-interpret the law to open the door to a widespread expansion of online gambling. Congress should restore existing prohibitions on Internet gambling before beginning a public debate about next steps."
It's nice to see Graham and Rubio put aside their differences in the primary to pander to a billionaire. http://t.co/3mZkczauzi

— Adam Smith (@asmith83) June 25, 2015
Billionaire neoconservative Sheldon Adelson, CEO of Las Vegas Sands Corporation, is one of the elite mega-donors that Republican presidential candidates like Graham and Rubio aim to attract. A member of the top "one percent of the one percent," Adelson gave a record-setting $93 million in political contributions to candidates in 2012.
READ MORE: This tax loophole saved the wealthiest Americans $100 bln
Adelson, owner of the Venetian Resort Hotel Casino in Las Vegas, is an avowed opponent of online gambling. In the first six months of 2014 alone, he spent $460,000 to stop online gambling initiatives across the US. The Coalition to Stop Internet Gambling, a lobbying group funded by Adelson, is currently active in fighting online gambling prospects in states like Pennsylvania.
Rubio said Thursday that his connection to the legislation had nothing to do with his aggressive courting of Adelson's cash.
"People buy into my agenda. I don't buy into theirs," he said in the early primary state of New Hampshire. "When I run for office, I tell people where I stand … My stands are not influenced by my contributors; I hope my stands influence my contributors."
John Pappas, director of the Poker Players Alliance, criticized the bill as a naked attempt to curry favor with Adelson. He also condemned Graham for introducing the bill on the day of funerals for victims of last week's Emanuel AME Church shootings in Graham's home state.
"As the eyes of the nation are focused on South Carolina following the recent tragic event, I think I speak for most Americans when I express profound disappointment in Senator Graham for choosing this time to advance a bill for the sole benefit of a billionaire political donor," Pappas said, according to National Journal.
"The Congress made the decision to adjourn early so they could attend services on Friday in Senator Graham's home state. Unfortunately, Senator Graham has not reset his priorities and picked a very unfortunate time to engage in the Internet gaming debate."