(Back to) the Future is here: Lexus builds a working hoverboard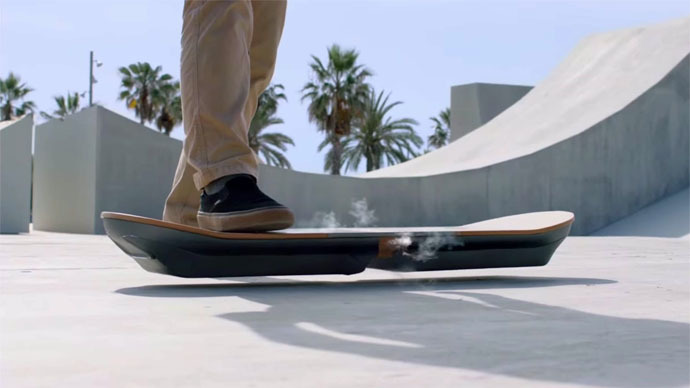 While it isn't quite a flying car, one highly-anticipated vision of 2015 predicted 30 years ago in 'Back to the Future' seems to be just around the corner: Lexus has announced that it managed to build a functional hoverboard.
That's right: a skateboard that carries the rider above the ground.

The board isn't up for sale yet, but this is still amazing news for anyone disappointed by the present day being a far cry from the 2015 visited by Marty McFly in the 1985 classic 'Back to the Future', which famously featured hoverboards in an iconic scene.

The device is billed as the "first real, rideable hoverboard" on the Lexus website and is branded under the name SLIDE. Indeed, a video demonstrates it sliding through the air like a floating skateboard, although a rider is conspicuously absent.

The gravity-defying board is made possible with magnetic levitation, using nitrogen cooled superconductors, according to the website. It is designed to utilize materials familiar to users of Lexus products, such as those that the car brand's interiors are often built with, including bamboo.

"When technology, design, and imagination come together, amazing things can be achieved. Presenting SLIDE," Lexus said in a tweet.

The promotional video shows the board working on pavement, rather than just on metal tracks like previous attempts at creating a hoverboard.

READ MORE: #1 skateboarder Tony Hawk test-rides first real hoverboard (VIDEO)

The technological principles behind this board already have serious commercial applications. The L0 series of maglev train set a rail speed record of 375 mph (603 km/h) in April.

Advances in such technology should give those who are who want to see a flying car reason to rejoice.

"It's very confidential information but we have been studying the flying car in our most advanced R&D area," Hiroyoshi Yoshiki, a managing officer in Toyota's Technical Administration Group, told Bloomberg. A "flying car means the car is just a little bit away from the road, so it doesn't have any friction or resistance from the road."
You can share this story on social media: