'I am sorry for the lives that I have taken' – Boston Marathon bomber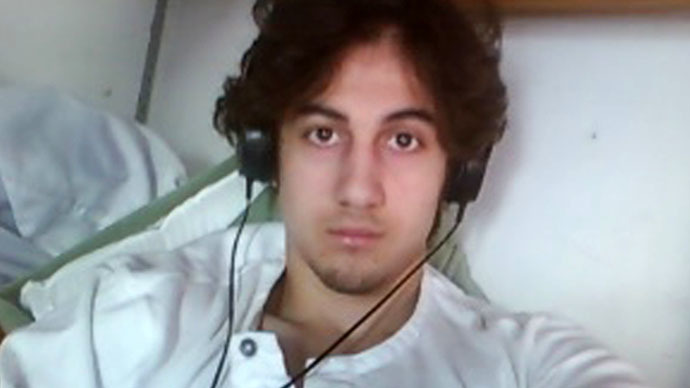 Convicted Boston Marathon bomber Dzhokhar Tsarnaev spoke in public for the first time since the April 2013 attack, just before the judge formally handed down the 21-year-old's death sentence. He apologized to the victims and their families.
"I'd like to now apologize to the victims and survivors. I am sorry for the lives that I have taken, for the suffering that I have caused you, for the damage, the irreparable damage," Tsarnaev said in the Boston, Massachusetts courtroom on Wednesday.
"I woudl like to now apologize to the victims to the survivors," #Tsarnaev says. He chokes up.

— Holly Bailey (@hollybdc) June 24, 2015
"You told us just how unbearable it was, this thing I put you through," Tsarnaev told them, standing in the courtroom with his hands folded in front of him.
"I am Muslim. My religion is Islam. I pray to Allah to bestow his mercy on those affected in the bombing and their families," he continued in a low voice, pausing between sentences. "I pray for your healing."
"I ask Allah for his mercy for me and my brother and my family."
Judge: "I sentence you to death by execution" @NECN#Tsarnaev

— Alysha Palumbo (@AlyshaNECN) June 24, 2015
Because Tsarnaev chose not to testify during his trial, his remarks on Wednesday marked the first time the public was able to hear his thoughts. After he spoke, US District Judge George A. O'Toole officially handed down the death sentence.
"You had to forget your own humanity," O'Toole said before making his formal pronouncement, adding that Tsarnaev was felled by a "diabolical siren song" and that a God who approves killing of innocents "cannot be the God of Islam."
People will remember Tsarnaev for only the evil that he committed, the judge noted.
"I sentence you to the penalty of death by execution," O'Toole said.
The judge was formally bound by the wishes of the jury, so the hearing was a formality that allowed victims and their families one last chance to address Tsarnaev.
Tsarnaev was convicted of 30 charges relating to the bombing and subsequent shooting spree in April of this year. Of those, 17 counts were capital crimes, making him eligible for the death penalty. In mid-May, the same jury that convicted him sentenced him to die, but he was not formally sentenced by the judge at that time.
And that's it for today. #Tsarnaev could be transferred to federal death row in Terra Haute at any time. He has an automatic appeal

— Holly Bailey (@hollybdc) June 24, 2015
The judge was formally bound by the wishes of the jury, so the hearing was a formality that allowed two dozen victims and their families one last chance to address Tsarnaev.
"Terrorists like you do two things in this world. One, they create mass destruction, but the second is quite interesting," said Rebekah Gregory, who lost her left leg in the attack. "Because do you know what mass destruction really does? It brings people together. We are Boston strong and we are America strong, and choosing to mess with us was a terrible idea.
"How's that for your victim impact statement?"
"The choices that you made are despicable," said Patricia Campbell, whose daughter, Krystle, was one of three people killed at the Boston Marathon.
"I will never have a complete family again," said Jennifer Rogers, the sister of Sean Collier, the slain MIT police officer whose shooting led to a car chase and massive manhunt days later.
Karen McWatters, a friend of Campbell's, told Tsarnaev: "You will die in prison alone."
Some relatives of the victims offered forgiveness, however.
"We chose love, we chose kindness, we chose peace," Bill Richard, the father of 8-year-old Martin, who died in the attack, said. "That is what makes us different from him."
On April 15, 2013 twin blasts, 12 seconds apart, rocked the finish line of the storied Boston Marathon. Over 260 people were injured, with three killed, including an eight-year-old boy. Four days later, in the early morning hours, a Massachusetts Institute of Technology police officer was killed and a man was carjacked, leading law enforcement on a manhunt from Cambridge, Massachusetts to the nearby suburb of Watertown.
By that point, officials had identified the two suspects as Tsarnaev, then 19, and his older brother Tamerlan, 26.
In Watertown, the suspects engaged in a firefight with law enforcement, during which Tamerlan was killed. The area was placed on lockdown as SWAT teams from multiple local and federal jurisdictions searched for the surviving brother. He was eventually found hiding in a boat on a resident's property.
At 21, Tsarnaev will become the youngest person on federal death row when he joins the 61 current prisoners at the US Bureau of Prison's death row facility in Terre Haute, Indiana.
The defense is expected to appeal the sentence, a process that will likely drag on for several years. If the sentence is upheld by all subsequent courts, Tsarnaev will die via lethal injection.
You can share this story on social media: